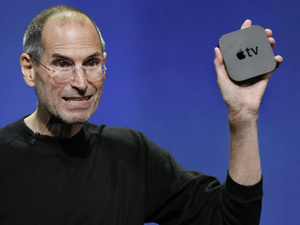 According to a new book by former Wall Street Journal reporter Yukari Iwatani Kane entitled "
Haunted Empire: Apple After Steve Jobs
,"
Apple
founder Steve Jobs reportedly told his top executives that HDTVs were a terrible idea due to razor thin margins and incredibly infrequent user upgrades.
Jobs made the comments at a 2010 meeting with his "Top 100" employees, about a year before his death.
During the meeting, Jobs was asked if the company was planning on joining the saturated
HDTV
market, moving beyond their 'hobby' Apple TV set-top streamer. Jobs responded bluntly, "no" and then continued on to say
"TV is a terrible business. They don't turn over and the margins suck."
The tech visionary's
alleged answers
are in complete contrast with what Jobs told his authorized biographer, Walter Isaacson, as the author wrote the "Steve Jobs" biography in 2011. Jobs said in the biography that Apple had "cracked" the code for HDTV, and that the device would be advanced and sync with all of your other iGadgets.
Despite Apple's significant clout in the tech world, HDTVs continue to see falling revenues and profits, with established players even dropping out of the market.