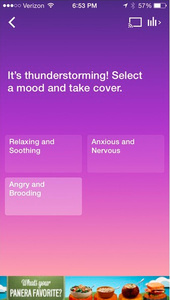 Songza has announced a partnership with The Weather Channel in which the current weather in your area will be combined with your musical preferences within the app to create customized recommendations for you.
The service allows you to get curated lists of music from "experts" depending on the activity you are doing (trying to nap, jogging) or your mood (sad, happy), or just by standard genres.
With the new deal, Songza will leverage actual weather data to help curate your music.
"With new data provided by The Weather Channel, we can more accurately predict your context, helping you enjoy more sunsets and weather more storms,"
added
Songza CEO and co-founder Elias Roman.
For example (and pictured), you will greeted with a few options depending on your weather like "angry and brooding" or "Relaxing and Soothing" if it's thunderstorming out.