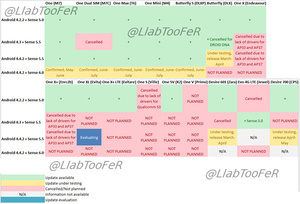 A leaked
HTC
document has revealed which smartphones will be getting which
Android
and Sense UI updates.
The new HTC One
M8
is the first with the new Sense 6.0 user interface (video below) but it will not be the only in the line to receive the update.
According to the table, 2013's HTC One, One Dual Sim,
One Max
,
One Mini
and Butterfly S will all receive Sense 6.0 to go along with their Android 4.4.2. The time frames are between June and July. All those devices have Android 4.4 and Sense 5.5 currently.
If you have a two year old phone, you are out of luck. Your phone will not be getting Android 4.4 or Sense 6.0. Many will not even get Sense 5.5.
Keep in mind this has not been confirmed by HTC, but if accurate should provide a thorough
map
for your device.