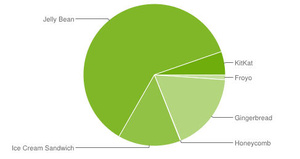 Following a slew of updates for devices made by HTC, Samsung and others, KitKat now claims a 5.3 percent adoption among Android devices.
The data comes from Google in its latest statistics mined from Google Play visitors, tracking those that run Android Froyo (v2.2), Gingerbread (v2.3.3, v2.3.7), Honeycomb (v3.2), Ice Cream Sandwich (v4.0.3, v4.0.4), Jelly Bean (v4.1.x, v4.2.x, v4.3) and KitKat (v4.4).
Specifically, the data came from Google Play visitors on Android devices during a 7-day period ending April 1.
KitKat has more than doubled its share since Google last shared its statistics with the Android developer community last month, when its penetration stood at 2.5 percent. Since then, KitKat updates for popular devices have continued to roll-out, finally giving the latest Android flavor the boost it has been waiting for.
Jelly Bean is still the King of the Droids for now though, with a combined 61 percent share. Gingerbread follows with 17.8 percent and Ice Cream Sandwich claims 14.3 percent.
Sources and Recommended Reading
Android Developer Dashboard with latest stats: https://developer.android.com/