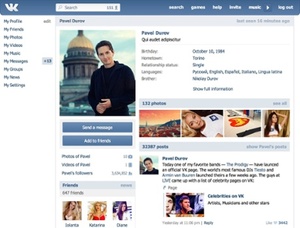 Sony
Music, Universal Music and Warner Music have filed suit against major Russian social network vKontakte (VK) over "large scale music piracy" being facilitated through its services.
The Russian divisions of the major labels each filed separate lawsuits, in conjunction with local industry group NFMI and the
IFPI
.
vKontakte, which has 145 million registered users (with over half in Russia) has never inked licensing deals with content rights holders and is allegedly keeping a massive catalog of music uploaded by its users, at least according to the labels.
"VK's music service, unlike others in Russia, is an unlicensed file-sharing service that is designed for copyright infringement on a large scale,"
noted IFPI chief executive Frances Moore.
"We have repeatedly highlighted this problem over a long period of time. We have encouraged VK to cease its infringements and negotiate with record companies to become a licensed service. To date the company has taken no meaningful steps to tackle the problem, so today legal proceedings are being commenced."
Moore also says that the availability of free, unauthorized tracks via VK is harming potential sales from licensed services in Russia such as Yandex, not to mention
iTunes
and other global stores.
Russian music revenue was a measly $62 million in 2013, according to the IFPI, placing it well outside the top 20 in countries. Russia is also notorious for lax rules on piracy, in the gaming and movie industries specifically. In the past, the
RIAA
called out the site for its facilitation of unauthorized music sharing, and VK lost cases in 2012 brought by a couple of Russian music firms.
Source:
Original Report: The Guardian