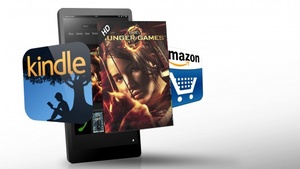 Amazon will unveil their first smartphone in June, with an expected release in September, say sources, yet another timeframe for the oft-rumored device that has never been officially confirmed.
The device has been demoed to developers in the past weeks, say the sources, and when launched will compete directly with
Apple
,
Samsung
and other high-margin OEMs.
As previously rumored, the device will have a 3D-capable display without the need for glasses, using four front-facing cameras for retina tracking.
Using the technology, text and images can move as a person head moves (or the phone moves), and could certainly be ideal for visual gaming, thanks to the added depth perception. The smartphone will most likely run on the Android-forked Fire OS, and have access to Amazon's curated version of the Google Play Store.
Amazon has reportedly set up an initial order of 600,000 units, with mass production slated to begin in May. While consumers may not want to try a smartphone run directly on
Android
or
iOS
, Amazon will have the ability to price their device with no margins, as CEO Jeff Bezos has long said the company would rather make money on content via their ecosystem rather than on the hardware.
Source:
Wall Street Journal