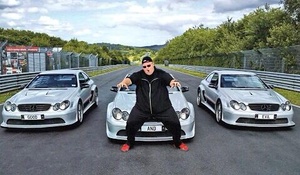 Thanks to a new ruling by the High Court in New Zealand, Kim Dotcom can have his seized personal assets back, including a garage full of luxury cars, millions in cash, and other items taken from the raid of his mansion.
The mansion was raided in 2012 when authorities took down file storage locker Megaupload and arrested its larger-than-life owner, Dotcom. Before the raid, the authorities were granted foreign restraining orders that allowed for the seizure of his assets, but those orders expire on Friday and have not been renewed nor extended.
While Dotcom is certainly excited (see the Tweets embedded below), the authorities have two weeks to file an appeal and given the high profile nature of the case, almost certainly will.
Come back to daddy!!! pic.twitter.com/NZP1JDmNrj

-- Kim Dotcom (@KimDotcom) April 16, 2014
I will rent the Taupo race track for a track day with #InternetParty members when my cars are returned! pic.twitter.com/uklZk6r4Rz

-- Kim Dotcom (@KimDotcom) April 16, 2014