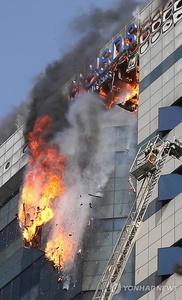 Yesterday,
Samsung
device owners had many of their services unavailable for some time, with even Samsung.com down for a time.
Apps were unavailable on Samsung Smart TVs, as well, thanks to a large fire at a Samsung SDS building in Gwacheon, South Korea.
Earlier this morning, access was restored and Samsung confirmed the fire as the culprit.
There were no fatalities.
Photo of Yonhap showing materials of Samsung SDS building is falling off because of fire,. pic.twitter.com/E1gzO9t3ff

-- Jaehwan Cho 조재환 (@hohocho) April 20, 2014
헐. 과천 삼성 SDS 건물에 불났네. 사상자가 없었으면 좋겠는데. pic.twitter.com/uwefIMgDI1

-- Joshua (@shbaik82) April 20, 2014
Source:
Samsung Blog