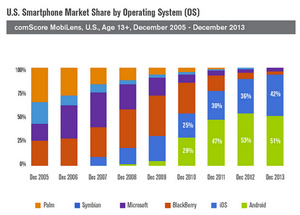 PayPal president David Marcus posted a great chart today via his Twitter feed that we feel deserved a little more attention.
Via comScore MobiLens, the chart shows off the market share for the top mobile operating systems in the U.S. beginning in 2005 and ending at the end of last year. The chart effectively shows how a fragmented and diverse market slowly but surely became a duopoly entirely populated by
Apple
and Google.
Additionally, the chart shows the rise and fall of BlackBerry, the once immensely popular Canadian smartphone maker that has now all but left the consumer handset market. The now defunct
Palm
is also prominently displayed, as is Nokia's one-time hit Symbian operating system.
Nokia
killed off the OS a few years ago and their hardware fate is now in the hands
of new owner Microsoft
.
By the end 2005, Palm was the proud owner of 30 percent market share of the fledgling smartphone market, followed by BlackBerry and Symbian each at 25 percent and Microsoft's original mobile OS Windows Mobile controlling the remaining 20 percent.
Two years later, Windows Mobile was dominant at over 35 percent, Palm remained a contender at 25 percent and BlackBerry was still just getting started. Symbian was already on its way out as Nokia remained focused on feature phones. That year, Apple unveiled the first iPhone, which began the start of a monster run. Apple took 5 percent share in the iPhone's first five months, alone.
Moving ahead to the end of 2009,
Android
was just getting ready for the prime time after a year (basically in beta with the G1), while Apple moved share to over 20 percent. BlackBerry reached its peak, at over 45 percent. Symbian and Palm were basically on the way out, and Windows Mobile could not keep up. From this point on, the story should be well known to Afterdawners, as
iOS
and Android are really the only two smartphone operating systems now, even with
Microsoft
throwing billions at Windows Phone. As of the end of 2013, Android controls 51 percent share of the market, to Apple's 42 percent, with Windows Phone and BlackBerry combining for the rest.
Fascinating view of the US smartphone market share evolution 2005-2013 pic.twitter.com/BEezcjoCDd

-- David Marcus (@davidmarcus) April 26, 2014