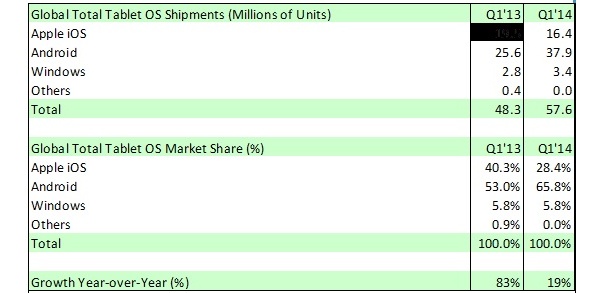 Thanks to the end of quarter research report from Strategy Analytics, we have a better look into how the major operating systems are faring in the tablet market.
Overall, global shipments reached 57.6 million for the Q1, with
Android
and
iOS
dominating as expected. Android had a near 66 percent share, followed by iOS at 28 percent and Windows moving up slowly to a 6 percent share.
Peter King, Director of Tablets at Strategy Analytics, said,
"Global Tablet shipments reached 57.6 million units in Q1 2014, up 19 percent from 48.3 million in Q1 2013. Android continues to make steady progress and now commands two thirds of the tablet market share.

Apple iOS shipments (sell-in) were 16.4 million iPads in Q1 2014 which declined 16 percent annually, but Apple claimed that due to channel inventory changes which were reduced significantly from the same period last year, sell-through only declined 3 percent. We believe that the disappointing performance in the early part of the calendar year is because Apple has changed its product release cycle to the holiday timeframe. iOS will likely lose share over the next several months to refreshed Android products, but we believe Apple will win back meaningful high-end market share during the final months of the calendar year."
Windows will likely continue to gain share, as more tablets ship with Windows-based operating systems, but the market share will never see significant boosts until developers begin really developing for touch-based Windows.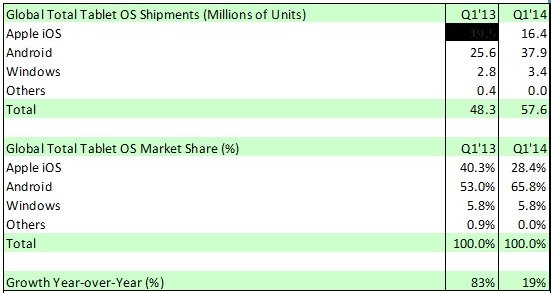 Source:
Strategy Analytics