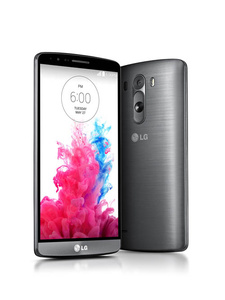 LG
has unveiled their oft-leaked G3 flagship device officially, packing the most impressive specs yet seen on a smartphone.
Featuring a 5.5-inch
QuadHD
2560 x 1440 IPS display (538ppi), the bezels are also thinner than last year's
G2
with a screen ratio of 76.4 percent.
Under the hood is 3GB
RAM
, a high-end quad-core Snapdragon 801 processor, 32GB internal storage and a
microSD
slot in case you need more room. On the back side there is a 13MP OIS+ (Optical Image Stabilizer Plus) camera with "revolutionary Laser Auto Focus that can shoot stunningly
sharp
images in a fraction of the time required by conventional phone cameras" and the device has a massive 3000mAh battery. The smartphone is quad-band, LTE-capable, has
NFC
and can wirelessly charged.
The back has a polished metallic skin which LG claims is fingerprint-proof. Just like past devices, the G3 keeps the "floating arc" form factor and the "Rear Key" for easier and more intuitive clicking.
"The smartest innovation in a fast-evolving smartphone market is creating harmony between advanced technology and a simplified user experience,"
says LG Mobile CEO Jong-Seok Park. This almost certainly is Park's way of boasting about the redesigned
Android
user interface.
The updated UI called "Smart Notice" works as a personal assistant, helping you prepare for the weather, telling you when to clear up space and uninstall apps you don't use, remind you of your scheduled meetings and even reminding you to call back that person you missed.
Here are the rest of LG's innovative features:
Smart Keyboard: Adaptive technology learns as you type for faster input with less mistakes. Smart Keyboard reduces input errors by up to 75 percent by tracking and analyzing typing habits and intuitively "knowing" what word the user intended to type. The height of the keyboard can also be adjusted to better fit the user's hands and position of the thumbs. Individual keys can also be customized with frequently used symbols for even faster input.

Smart Security: Understanding the importance of maintaining and securing confidential data when smartphones are shared, misplaced, lost or stolen, the LG G3 offers a number of enhanced security features such as:

Knock Code enables users to unlock their device with a pattern of taps. Merging security and convenience, users can create a personalized code that can be entered anywhere on the screen. With the G3, users have the option of being able to use KnockON to wake the screen to check the time as well as enter the home screen directly via Knock Code.

Content Lock keeps personal files safe and hidden from view when sharing the G3 with friends. When the G3 is connected to a PC, Content Lock prevents file previews so the data is still safe. The locked files can reside either on the G3's internal memory or on the microSD card.

Kill Switch gives G3 owners the ability to disable their phones remotely in the event of theft. The Kill Switch also allows content on the G3 to be wiped so personal information won't be compromised. Kill Switch also includes antivirus scanning and remote wipe and lock, among other essential features.
The superphone will reach South Korea on May 28 and then roll out to 170 other nations.