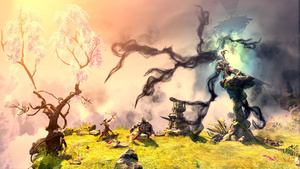 Sony
has announced that as a celebration of the service's fourth anniversary, PlayStation Plus subscribers will now have access to two free titles per month via the Instant Game Collection.
Starting in July, the titles in the Instant Game Collection will be available starting the first Wednesday of the month and will be free until the first Wednesday of the following month.
Sony did note that a few of the games that have been available for some time will be phased out and replaced with a new collection. PS Plus subscribers are encouraged to download those games while they are still available.
For June, the new games on PS4 are the twin stick shooter Pixeljunk Shooter Ultimate and the popular mystery puzzler Trine 2: The Complete Story. For the PS3, the new games are NBA 2K14 and the psychological survival game Lone Survivor (Director's Cut).
Leaving PS Plus are Stick it to the Man, Payday 2, Brothers A Tale of Two Sons, Muramasa Rebirth and Everybody's Golf.
Source:
Sony