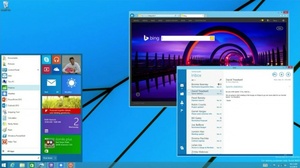 According to ZDnet,
Microsoft
will not be including a true Start Menu (as rumored) with its upcoming Windows 8.1 Update 2.
The next update is expected to be released later this summer, likely in August.
Allegedly, the software giant will wait to add back a Start Menu until "Threshold," the code name for the next major Windows release (maybe called Windows 9 eventually) is released in April 2015.
It is unclear why Microsoft is delaying the feature (which was unveiled officially at BUILD), but of course it was always just a rumor to begin with that it would be part of the update. The rumored new Start Menu will be different from the familiar XP/Vista/7 menu as it will incorporate the "Metro" theme and screen concept.
Source:
ZDnet