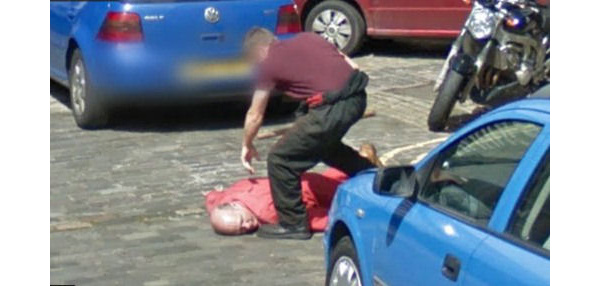 A garage owner in Edinburgh has apologized after a complaint was made to police about a murder prank on Google's Street View.
Mechanic Dan Thompson noticed a Google Street View car was approaching in August 2012, and quickly staged a scene where a colleague stood over him with a pick axe handle as he laid on the ground playing dead. Over a year later the police showed up after a complaint by a member of the public.
"By complete fluke I saw the Google car coming along the road but it had to loop the block so I had one minute to rush back inside the garage and set up the murder scene,"
he told the BBC.
"We had forgotten about it when the police arrived a year later and we apologised for wasting police time. They found it funny."
Google's Street View has been subject to plenty of pranks in the past, including being flashed by both men and women as the cars passed by.
Source:
BBC News
Picture:
Sophos Naked Security