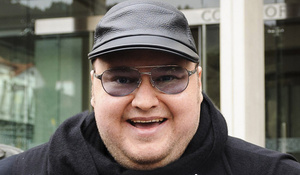 Four major music companies have joined Hollywood studios in seeking to have Kim Dotcom's assets frozen while the case against the Megaupload founder proceeds.
Dotcom's assets had been frozen since January 2012 when his home was raided and Megaupload service was shut down. In April this year, a New Zealand court refused to extend the freeze on Dotcom's assets, which include a garage full of luxury cars, millions in cash, and other items taken from the raid of his mansion.
The court's decision has since been appealed by the Crown with a hearing due on July 30, and six major Hollywood studios also want Dotcom's assets to remain frozen while the case against him proceeds.
They are now joined by four record companies - reportedly Warner Music, UMG Recordings, Sony Music and Capitol Records - with papers served on Tuesday seeking to have Dotcom's assets frozen.
The entertainment companies allege that Dotcom facilitated and profited from widescale copyright infringement while running Megaupload, and the United States is seeking to extradite him to face copyright infringement charges.
However, hearings on extradition have been delayed repeatedly while the case remains in court in New Zealand.
Source:
Daily Mail