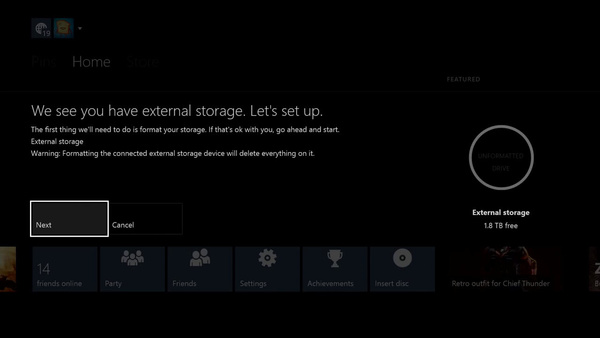 The Xbox One June update is rolling out, bringing with it support for external storage and the ability to use your real name on Xbox Live.
After the update is applied, an Xbox One can support up to two external USB 3.0, 256GB or larger HDDs. Once formatted, you can copy and move games, apps and game add-ons to the external devices. You'll also be able to use the content on an external drive with a different Xbox One, as long as you sign in to Xbox Live for downloaded content, and insert a disc to verify ownership of an installed game.

The June update also brings with it the ability to use your real name on Xbox Live.

Improvements are also made to the SmartGlass app for Xbox One, including the entire OneGuide experience and Universal Remote Control. Now in supported markets you can view all of your TV listings on your SmartGlass device and set and view your favorite channels and app channels on your smart phone, tablet or PC.

With the Universal Remote Control, you can also easily switch channels, set new recordings and select and control recorded content from your DVR.



Hulu will also begin rolling out a free 3-month trial of Hulu Plus for all Xbox Live Gold members in the United States. Members who are not already Hulu Plus subscribers can sign up directly from within the Hulu Plus app and will receive a free 3-month trial of Hulu Plus.

Here's a video overview of the changes the June update makes to Xbox One.