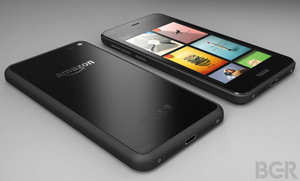 Amazon has announced a new product launch event for June 18th, adding fuel to the fire that the company will unveil its oft-rumored 3D smartphone.
The invitation shows off a super close up of a black device with Amazon branding, but nothing else is clear.
While it has never been confirmed, Amazon is expected to release a device with a 3D display (5 cameras on the front), allowing for 3D gesture tracking and other unique features.
Intel
got the rumor mill going again last month by saying some of its partners were already busy on integrating 3D camera tech into their mobile devices.