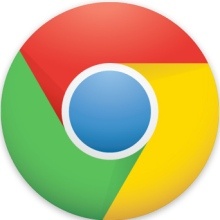 According to a new research report from Adobe, Google's Chrome browser has surpassed Microsoft's Internet
Explorer
as the most popular browser in the nation, at least by one important metric.
For the first time ever, Chrome surpassed IE in the number of visits to U.S.-based websites on both personal computers and mobile devices. Chrome (on desktop and
Android
, including older Android browsers built by Google) had 31.8 percent share in April, while IE had 30.9 percent. IE had 37 percent in the same quarter last year, while Google had 26 percent, showing a significant swing.
Adobe does agree with other reports, however, that Chrome is not the most popular browser in the U.S., with that crown still owned by
Microsoft
on
desktops
, and
Safari
for mobile. However, Safari has less than 7 percent share in desktop, and Microsoft's mobile browser presence is almost non-existent.
Google loves having Android users on Chrome, as the
address bar
also works for search with leads to Google search results, and most Android users are always logged in to Gmail, which allows for better tracking and pointed ads.
Source:
Digits