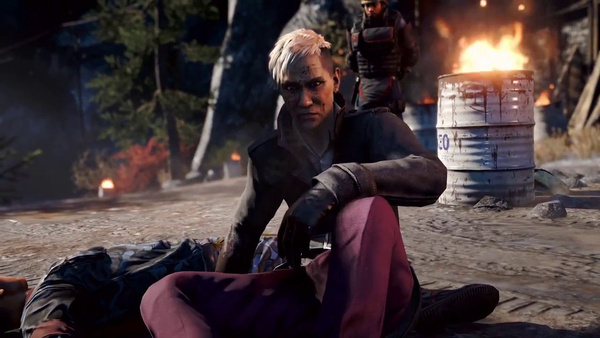 Ubisoft kicked its press briefing today in the strongest way it could; by exposing us all to the insanity of antagonist Pagan Min.
Far Cry 4 ditches the sweltering Jungle and beach scenes for a fictional country called
Kyrat
in the snowy Himalayas, which is ruled over by a brutal self-appointed King called
Pagan Min
.
As you will see in the video (posted below), things get bad very quickly for protagonist
Ajay Ghale
, who gets caught up in a civil war to overthrow the dictator.
After he witnesses Pagan Min's brutal insanity flare up when he murders one of his own men, he finds himself posing for a selfie with the lunatic before having a bag thrown over his head.
Far Cry 4 is due to be released by around November this year, for PS4, Xbox One, PS3 and Xbox 360.
Pagan Min looks like he will make for a great villain, be sure to check it out, but be warned, it is a scene of fairly brutal violence and the language is colorful.
Enjoy!




NEWS FROM E3 2014
Xbox boss makes big step toward Xbox One recovery at E3
E3 2014: Halo: The Master Chief Collection coming to Xbox One, Halo 5: Guardians multiplayer beta this fall
E3 2014: Far Cry 4 opening minutes shows nutcase villain Pagan Min
E3 2014: Watch 'Rise of the Tomb Raider' announce trailer
E3 2014: Assassin's Creed: Unity 4 player co-op demo
E3 2014: Call of Duty: Advanced Warfare 'Induction' Gameplay Video
E3 2014: Dead Island 2 trailer is full of laughs and obscene horror
E3 2014: Battlefield Hardline beta available for PS4, PC now
GTA V headed to PS4, Xbox One and PC later this year
E3 2014: FIFA 15 launching September 23 for PC, Xbox One and PS4 (+video)
E3 2014: Tom Clancy's The Division gameplay demo
E3 2014: Watch reactions to 'The Evil Within'
E3 2014: The Order: 1886 full trailer shown at E3
E3 2014: Crackdown returns on Xbox One
E3 2014: Forza Horizon 2 trailer & Forza Motorsport 5 gets Nürburgring
E3 2014: The Witcher 3: Wild Hunt trailer
E3 2014: Fable Legends Gameplay Trailer
E3 2014: New Phantom Dust announced for Xbox One
E3: inFAMOUS First Light teaser trailer
E3 2014: The Crew 'Coast to Coast' trailer shown at E3
PlayStation 4 getting native YouTube app this year
'Destiny' beta headed to Sony PlayStation 4 on July 17th