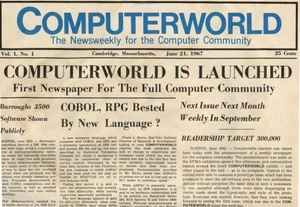 On Monday, Computerworld will shut down its print edition, 47 years after the first issue was released.
The tech publication was the first from IDG, and the first newspaper for computer hobbyists.
"It's sad to lose anything that has endured so long. But we are merely taking part in the natural evolution of the media industry, like so many great publications before us,"
editor-in-chief Scot Finnie added.
The creator of Computerworld, Patrick J. McGovern, passed away in March. His publication was considered the "bible of the industry" when it launched.
Computerworld covered industry trends and new product news, and started at a time when IBM and
Microsoft
were just babies. The online edition will continue on.
Source:
Beta