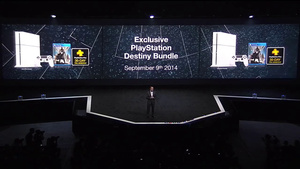 'Destiny,' easily one of the most-anticipated video games of the year, could have PS4-only exclusives until fall 2015.
The
FPS
role playing game from the development team behind Halo, has promised the most inter-connected world yet, allowing gamers to create a dynamic experience that is not controlled by the developers.
Sony
has put together a number of PlayStation-only exclusives for the blockbuster, including a full Destiny bundle that includes a white color console, white controller and the game. Additionally, the game will have exclusive content and maps and will be a PlayStation-only beta before full launch on September 9th.
Thanks to an Amazon listing, it appears that Xbox owners will have to wait to get the exclusives seen by Sony gamers, "until at least Fall 2015." The full post reads:
"For PlayStation 4 owners, Destiny offers Early access to the Beta on July 17th, and a free 30-Day PlayStation Plus Trial. Exclusive content for PlayStation 4 owners includes the Exodus Blue Competitive Multiplayer Map, Dust Palace Strike, Weapons, Ships and Gear that will only be on PlayStation until at least Fall 2015."
If accurate, Sony has locked up an extremely long exclusive period for such a highly awaited game and it will be interesting to see how
Microsoft
counters.
Source:
vg247