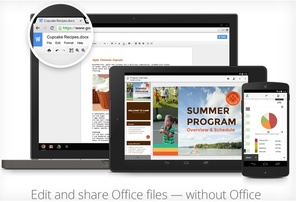 One of the nearly infinite announcements Google made today during their 2014 I/O conference was the addition of numerous features to its office suite that will help
Android
mobile users live without needing Microsoft's market leading but expensive Office suite.
First, Google made its presentation software, "Slides," available for mobile on Android and
iOS
. You can download it as a standalone app just like the word processing Docs and the Excel-esque Sheets.
More importantly, all the apps can now handle Word, Excel and Powerpoint files natively without need for conversions that occasionally led to some strange font issues in the past. Google had previously offered QuickOffice if you needed native
Microsoft
document editing, meaning you needed a completely separate app.
Ryan Tabone, director of product management, Google Docs, Sheets, Slides & Quickoffice, also noted that there should be no more confusion on which you need.
"You just think document, use Docs. You think spreadsheet, use Sheets,"
says Tabone,
"When people use one application, they have one use case in mind."
Google has also announced the next step in real-time collaborative editing, allowing multiple people to edit documents in real-time and Google Docs' comment system will track the changes. Editors will see their changes show up in different colors, so you know whose idea you are declining or accepting.
"At the end of the day, people just want to edit documents,"
Tabone concluded,
"they shouldn't have to be rocket scienists to figure this out."