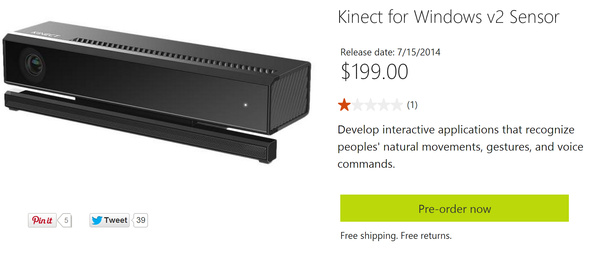 Microsoft
has confirmed that the
Kinect
v2 for Windows will begin shipping on July 15th, with the motion control system now available for pre-order.
The device is available in Microsoft's UK and U.S. online stores with a price of $199/£159.
Microsoft had originally offered the Kinect only as part of their Xbox gaming consoles, and the Xbox One launched with it as a mandatory bundle. Only recently did the company move away from that policy, selling the console with Kinect for $100 less.
With a launch for Windows, the system's uses are multiplied although Microsoft says the unit does not have any software included and should be used with the Kinect for Windows SDK 2.0. There are only a few notable apps so far that have been designed for the system on Windows, but there are surely plenty more to come with the updated v2 model.
Pre-order the system here:
Microsoft Store