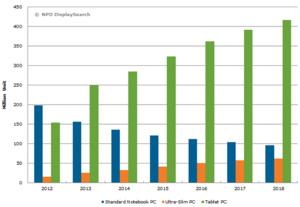 An interesting piece of information from NPD DisplaySearch's latest Quarterly Mobile PC Shipment and Forecast Report shows that tablets actually saw a decline year-over-year in the Q1 2014, marking the first time the industry has seen a YoY decline.
56 million tablets were shipped for the quarter, and as a result, NPD dropped their annual forecast to 285 million from 315 million, a rather significant reduction.
"Tablet PC demand in 2014 is being impacted by falling demand for seven-inch-class sizes in emerging regions and in China, where many local white-box brands have experienced lower-than-expected shipment growth,"
noted Hisakazu Torii, vice president, smart application research at NPD DisplaySearch.
"Most major brands have recently reduced their business plans for 2014. There is a risk that the replacement cycle for tablet PCs will lengthen beyond the one to two year range unless brands can develop more attractive usage scenarios."
The major reason cited for the drop was increasing competition from phablet smartphones that have screen sizes 5.5-inches or higher and can do everything a 7-inch tablet can, and usually more.
Tablet makers have begun moving towards 7.9-8.9-inch models to combat the effects, and also getting much larger with tablets equaling laptop sizes at over 12 inches, as well.
Source:
TNW