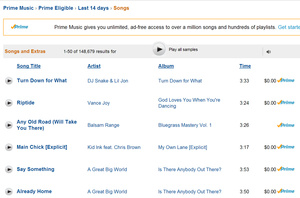 Amazon has added hundreds of thousands of tracks to its fledgling Prime Music
streaming
service.
In June, the e-commerce giant said the service launched with over a million tracks and hundreds of curated playlists, which have now been expanded, as well. The service allows for unlimited streaming without any ads as long as you are a Prime subscriber. Prime costs $99 per year and offers free 2-day shipping on millions of products, free access to Amazon's streaming movie/TV catalog and hundreds of thousands of books for free via Kindle.
A few of the more popular artists added (or updated) today are David Guetta, Al Green, Miles Davis, Kendrick Lamar, Linkin Park, Shakira, Deadmau5, Ella Fitzgerald, Edward Sharpe & The Magnetic Zeros, Neil Young, DJ Snake & Lil Jon, Young the Giant, A$AP Rocky, Elvis, Oasis, Kacey Musgraves, Ray Charles, Panic! at the Disco, Wyclef Jean, Nick Cave and The Bad Seeds, Skrillex and John Coltrane, says the company.
While the deal is certainly great for Prime users, there are some notable songs and artists missing. As of writing, Universal Music Group's entire massive catalog is not available, unless you want to purchase the tracks via Aamzon
MP3
. Additionally, there are no brand new tracks like you would find on
Spotify
, as all the tracks available are older than six months.