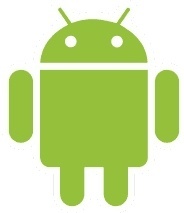 According to the latest figures from research firm Strategy Analytics, 84.6 percent of all smartphones shipped for the Q2 were running
Android
, a new record high for the mobile OS.
Overall, there were 295.2 million smartphones shipped for the quarter, and Android took share at the expense of
Apple
,
Microsoft
and BlackBerry.
"Global smartphone growth in the current quarter is at its lowest level for five years, and there are wide variations by region,"
noted Linda Sui, a director at StratAn.
"Africa and Asia are booming, while North America and Europe are maturing."
249.6 million Android units shipped for the quarter, 35.2 million Apple iPhones were shipped, 8 million Windows Phones were sold and BlackBerry managed to somehow ship 1.9 million units, down over 60 percent year-over-year.
Samsung
kept its commanding
OEM
market share lead, at 25.2 percent, but that figure was significantly lower than last year during the same quarter. Apple had 11.9 percent share, Chinese giant Huawei had 6.8 percent and
Lenovo
, Xiaomi and
LG
rounded out the rest of the top list, all at around 5 percent.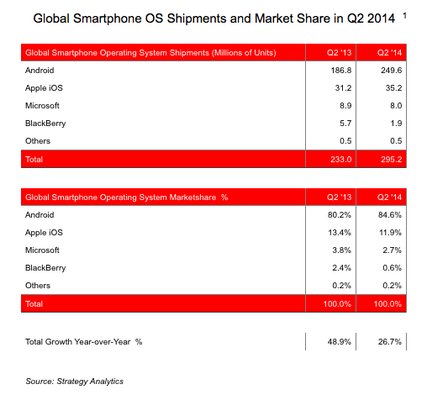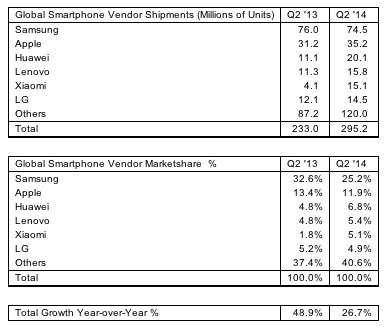 Source:
Strategy Analytics