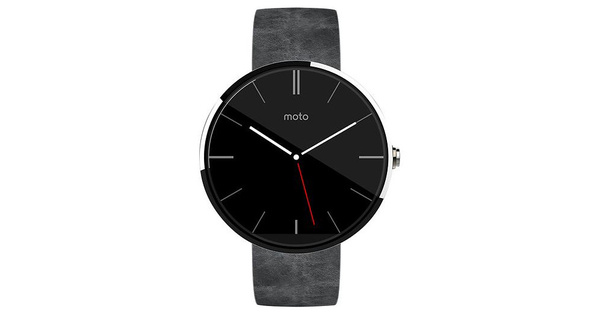 Expected to be officially launched on September 4th, Best Buy has let the cat out of the bag on the upcoming Motorola Moto 360, the highly anticipated Android Wear smartwatch.
According to the retailer's listing, the watch will cost $249.99, more expensive than current Android Wear devices, but less than the rumored $299.99.
The device will have a 1.5-inch backlit round LCD with 320x290 resolution (205ppi) and will be protected by Gorilla Glass 3. The watch is powered by an unspecified Texas Instruments processor, weighs 2.1oz, has 512MB RAM, an ambient light sensor, water resistance up to 1 meter, a pedometer and a heart rate monitor.
Listed features via Best Buy:

-Compatible with most devices with an Android 4.3 or later operating system
For wide-ranging use.
-Bluetooth 4.0 technology
Enables wireless syncing to select devices for hassle-free connectivity.
-Voice activated
Allows you to use spoken commands to operate the smart watch via the built-in microphone.
-Vibration alert
Discreetly notifies you of important events.
-1.5″ backlit LCD touch screen
With 320 x 290 resolution and 205 ppi makes it easy to navigate features and provides easy-to-read visuals. Corning Gorilla Glass 3 construction offers durability, and the adjustable brightness allows custom use.
-Built-in optical heart rate monitor (PPG)
Helps you achieve or stay within your ideal heart rate range.
-Built-in pedometer
Measures the number of steps taken, so you can easily monitor your fitness progress throughout the day.
-Digital watch interface
Provides crisp, clear readouts of the time and date. Built-in alarm and calendar features help you stay on schedule.
-Waterproof up to 3.3′ for up to 30 minutes
So you can safely wear the watch while swimming or engaging in other aquatic activities.
-Stainless-steel case and plastic case back
Offer durability. The adjustable-length Horween leather band and metal buckle closure deliver a secure, comfortable fit.
-Built-in lithium-ion battery pack
Provides long-lasting operation. The battery-strength indicator lets you know when the battery needs to be powered via the included dock and charger.
-Texas Instruments processor
Helps ensure fast, efficient performance.