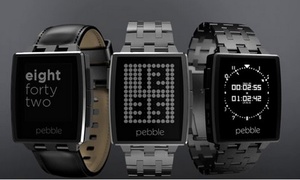 Smartwatch startup Pebble has made some impressive hires this week, announcing that Itai Vonshak will be their new head of product and UX and Liron Damir will be head of design.
Both executives just worked at LG on the webOS TV operating system and user interface, and previously they designed updates for webOS after HP acquired original creator Palm.
Vonshak says that Pebble wants to "focus heavily on a product-focused philosophy alongside a spirit of openness that's appealing to his webOS roots."
Pebble remains a popular option in the smartwatch market, although Android Wear devices are slowing creeping onto the scene, and Apple's iTime is expected early next year.
Source:
Verge