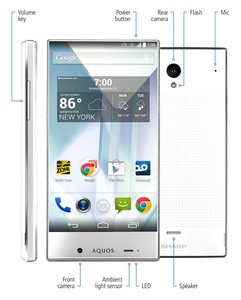 Earlier in the week, Sprint and Sharp announced a new line of smartphones, the Aquos Crystal, which they promised would have designs not seen before.
The first of the line, the 5-inch Aquos Crystal, will sell for just $239 off-contract (a huge discount compared to the $600 iPhone or Galaxy S, for example) and features an edge-to-edge design that has no bezel, a fantastic look for a phone.
To accommodate the display, the phone itself is thicker than current premium devices, and it has a dimpled back similar to the Nexus 7 tablet. The phone has a basically stock Android 4.4.2, a 1.2GHz quad-core processor, 1.5GB RAM, 8GB internal storage (microSD expendable), HD Voice, Wi-Fi Calling, Harmon Kardon speakers (and audio tech) and LTE support including support for Sprint's "faster" Spark network.
Interestingly, Sprint is offering the new "App Pass," a $4.99 monthly subscription service that offers unlimited access to a handful of premium apps including productivity tools and even games.
There is no word on availability of the device.
Source:
Verge