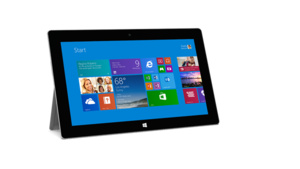 Microsoft has slashed the price of its Windows RT-based Surface 2 tablet by $100, dropping it to $349 for the base model.
The year-old tablet is the last device to run Windows RT, and this price cut makes it clear that the company is looking to phase out the unpopular operating system.

Microsoft had put most of their marketing muscle behind the Surface Pro 3, which runs a full Windows 8.1 and includes a stylus and other notable features, leaving its older models to fend for themselves.

At $349, however, the Surface 2 can be a bargain despite its junky OS. The tablet has a 10.6-inch 1080p touchscreen, 2GB RAM, 32GB internal storage, a quad-core Tegra 4 processor, dual cameras, a microSD slot and a full USB 3.0 port.