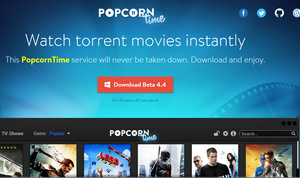 Popcorn Time has proudly announced the launch of beta 4.4 for Windows and Mac users, including much better VPN, Chromecast, Airplay and codec support.
The release is the first cross platform desktop version from the team, and it has all been built in C++ for Mac, Windows and Linux. The Linux beta will be available in a few days, but the major OS versions are available now.
Reads the post:
So what's new??

Macs, for the first time you're also getting FREE BUILT IN VPN!!! Yes. Now you can also be anonymous!! (powered by Kebrum)

Also we added Chromecast and Airplay support for Mac and improved the Chromecast and Airplay support for Windows.

And, and we believe that you've been waiting anxiously to read these words coming from our mouths....

SUBTITLES support FOR CHROMECAST!!!
Yes, this one was a tough cookie, but we ate it and now you can cast all your favorite movies with their subtitles using Chromecast! ;-) Apple TV, you're next to get subtitles, don't worry.



And what else?

Better cpu usage!
Free built in VPN
Improved Chromecast support
Chromecast subtitles !!!! (don't tell the Android users, they're also waiting for this... and they'll have it soon!!)
Improved airplay support
Smoother and improved video player.
It's now supporting more video codecs.
Subtitles size control
The option to help the community and flag bad torrents... Cause no one like'em shitty torrents!!! :-)
Major bug fixes
Lot's of love hard work and sweat from your devoted PT team.
So enjoy, and if anything doesn't work for you, please fight the urge to report it here, but just click this link here and post it there.
Check it out
here
.