Finding where to post
Ok, now you have learned how to search for your answers, but you cant find anything. Seems like you will have to start your own thread, after finding the correct forum to place it in.
First off, you want to hit the
Forums
tab in the AfterDawn toolbar, and you will then be greeted with a page full of different forums, each with many sub-sections.

When you have found the forum that most closely resembles the problem you have, click on it. For example, if
DVD-Shrink
is freezing on you and you don't know why, a good place to start a new thread would be in the
DVD Shrink forum
.
In keeping with the example, I clicked on the DVD Shrink forum and was lead to the actual forum where all the posts are.
Starting a new thread and UBB tags
Now that you are in the forum of your choice, you want to start a new thread.

Find the
Start a new thread
button at the top right of the forum and hit it. You will then be led to a new page which I will explain in detail in this upcoming section.
Ok, so lets start from the top. There is a short explanation of the
UBB formatting tags
as well as some notes.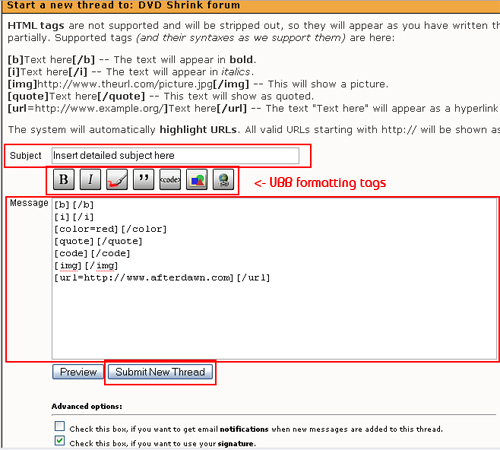 The first code is
B
old. The text will appear in bold.
The second button is for
I
talics. The text will appear in italics.
Next, the paintbrush button will allow you to make your text will show up in red color.
The quote mark button is next. The text will show as quoted. Use it to quote famous people or other users.
The
button is next. It will allow you to write text that cannot be searched in Google.
Next is the add image button. The code will show up as [img*]http://www.theurl.com/picture.jpg[/img*]
(Note: asterisks are there so code will show up in guide)
-- This will show a picture in your post.
The final code is the add URL code. It will show up as [url*=http://www.example.org/]Text here[/url*] -- The text "Text here" will appear as a hyperlink to the address www.example.org
Now that you understand the UBB tags, its time to actually get to posting.
In the subject box, type in a short summary of your problem. Subjects such as "I NEED HELP!" will not get you the help you need, trust me. Whereas a subject such as "DVD Shrink freezing on Vista computer" will get you more responses, and the kind of responses you would hope for.
In the message area is where you can elaborate on the problem and try to be as detailed as possible. Remember, the more details you can give, the better help other AfterDawn users can give.
Once you have written out your thread and are satisfied, there are two last options for you to select. They are,
Check this box, if you want to get
email notifications
when new messages are added to this thread.
and
Check this box, if you want to use your
signature
.
Both should be checked by default but you can choose to uncheck them if you do not want to receive email notifications or use your signature with the post.
When you are done with that, hit
Preview
to check your post, and afterwards hit
Submit new thread
.
Congratulations, you have just started your first thread on AfterDawn!