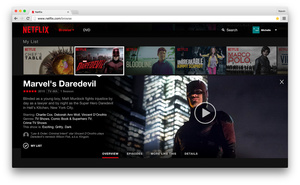 Netflix has truly become a force to be reckoned with in the TV industry. For ten years now the company has managed to steal away cable customers with its ever-increasing content library and more expensive original programming.

Over the years Netflix has also improved the streaming technology, the performance and functionality of the service. This requires a lot of A/B testing and most of those tests will never see the light of day amongst the general public.

Netflix prides itself the king of binge, and the nonstop action is one of the more important reasons why people love Netflix over the old world competitors. Now Netflix is testing something that is definitely one of the most controversial features we've heard of from the streaming service.

The company has been offering test subjects promotional videos between episodes, which, for many, changes everything. When you are watching Netflix you just want to go through episode after episode with no intrusion.

However, the videos aren't the traditional kind of commercials you might see on Hulu for example, they are personalized content from Netflix promoted to the user. So maybe, just maybe, someone could get something out of them. After all you might find your next favorite show from the promo videos.
Read more...
---