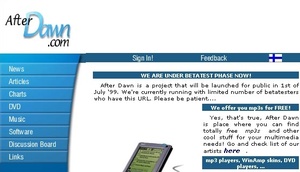 It all started in winter 1998/1999. It was one of the coldest winters in Finnish history with temperatures dropping to record low of -51C in Northern parts of the country. There was this slightly bored web developer, with too many easy job tasks at hand, dreaming about doing something of his own to the Internet.

After months of thinking it through, a vision of a website dedicated to all things about MP3s was taking a shape. The idea was to build a website that would combine all aspects of the trendy new technology under one umbrella: news about the tech, guides on how to use the tech, software downloads to help to follow the guides provided and a place for indie artists to publish their songs, in MP3 format, for free.

Drafting the plans, the realism hit hard. Building - and maintaining - such a site on my own seemed like an impossible task. The thinking was, that once the novelty of the project would wane, the project would be left to die, if running the site on my own. Furthermore, back in those days, there weren't open source CMS systems, free picture galleries, WordPress themes to pick from or anything like that. Nope, you had to build the entire site from the scratch, on your own, including all its backend systems, design, etc. And yeah, hosting, even a medium-sized website would cost something like $100 a month back then. I was in my 20s and quite poor, to be honest.
Read more...
---