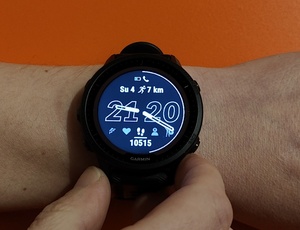 We received the Garmin Forerunner 955 smartwatch for review a few months ago, just after it was released in the summer of 2022. Depending on the variant, the smartwatch costs around $500 and is among the more expensive options from Garmin's selection of smartwatches.
The Forerunner model in particular is designed for specifically runners and exercise, as one can imagine from its product name. It is a direct successor to Garmin's Forerunner 945, which we tried previously and liked.
We took the new Forerunner for an extensive test during the three-month testing period, using it around the clock. We used the watch to measure exercise, sleep, stress, and general well-being.
After a long and arduous testing period, it is time to see what Garmin Forerunner 955 is about and how it handled our tests.
Exterior
Garmin Forerunner 955 follows looks-wise a very traditional and conservative sports watch aesthetics. The watch looks undoubtedly like a sports watch, and is seemingly the direct continuation of the 1980s classic sports watch design is a conscious choice.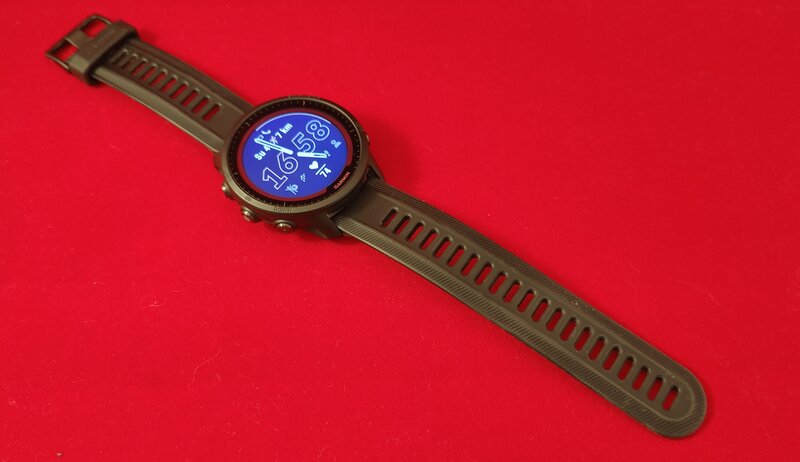 Therefore the design is outspoken about the fact that the wearer does sports or exercises, and perhaps wants to show it off, too. It is, of course, up to each consumer, whether this is preferred.
Forerunner 955 is also very traditional in the sense that it has physical buttons. A lot of physical buttons. There are, in fact, five different buttons for different actions. On the left side of the watch face, there are three buttons, and on the right side, two.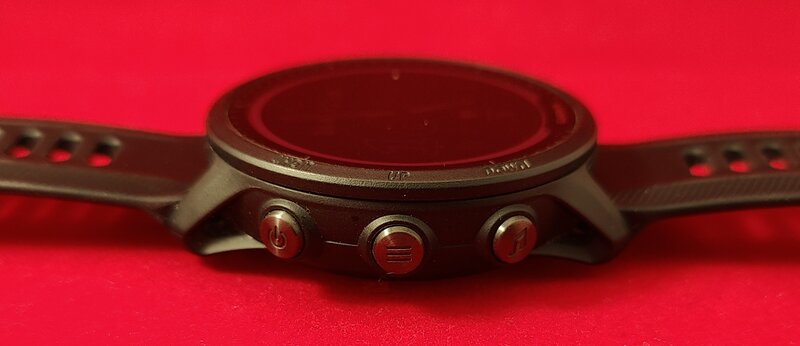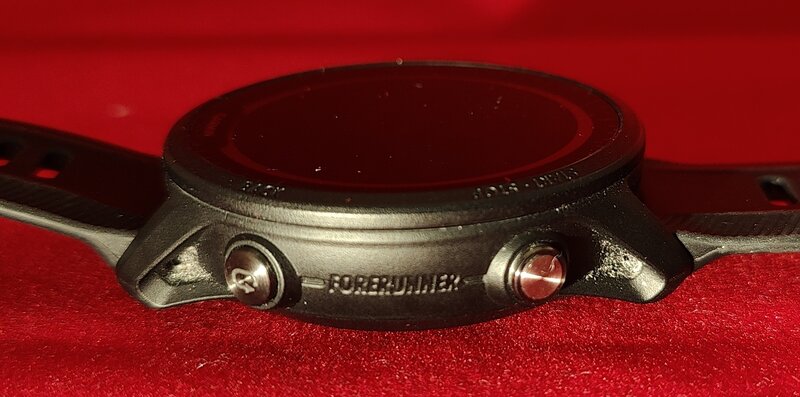 Although Garmin Forerunner 955 has also a touchscreen that functions perfectly fine, the manufacturer relies that the core audience, athletes among others, still want physical buttons in their devices.
There's a logical reason for the number of buttons: physical ways of interacting with the device are easier to use and more predictable, which is important when doing things like saving lap times or other exercise data.
Forerunner 955 is also large: the chassis is 46.5 mm and it's not the thinnest of the watches. It is almost identical in size to Garmin Fenix 7.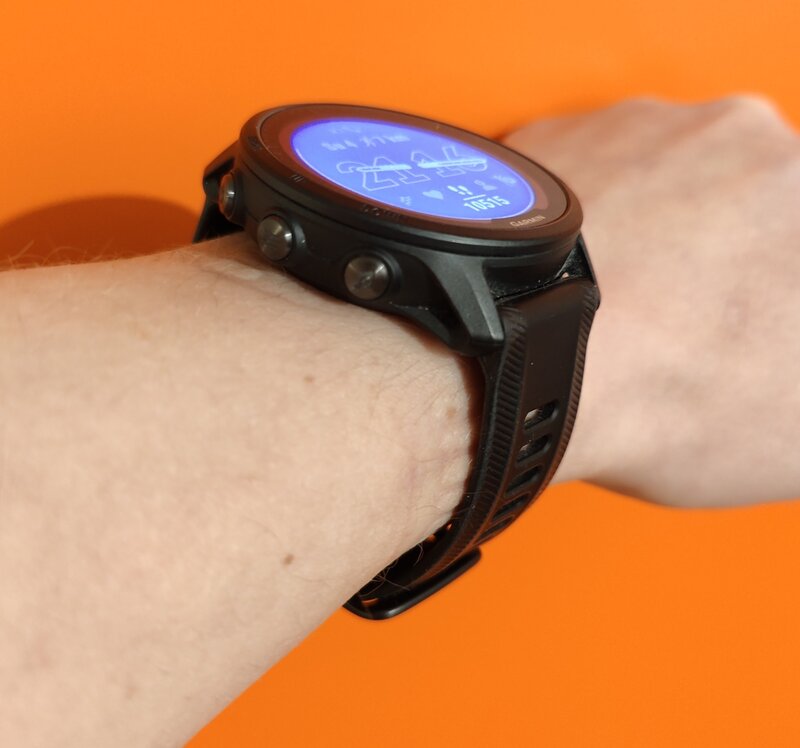 In practice, the size of the watch meant that it didn't fit through the closed sleeves of a collared shirt.
However, the watch is fairly light considering its size. This is due to the fact that the frame is not made of metal but polycarbonate - plastic in laymen's terms. Thanks to the 50-gram weight it doesn't bother during everyday use, and one can quickly forget that they are wearing it.
https://cdn.afterdawn.fi/storage/pictures/800/garmin-forerunner-955-naytto.jpg
In terms of the display, Forerunner 955 offers a matrix display, typical for Garmin's smartwatches. The resolution is fairly meager, which is a conscious choice to conserve energy and keep it readable in even bright daylight.
However, it is clear that the display technology does look compared to devices like Garmin Epix 2 or Garmin Venu 2, which have bright and sharp OLED displays.
Garmin Forerunner 955 Specs
DISPLAY:
1.3", resolution 260x260
WEIGHT:
Normal version: 52 grams, 1.83 oz
Solar version: 53 grams, 1.87 oz
PROTECTION:
Waterproof to 50 meters or 164 feet
MEASUREMENTS:
46,5 x 46,5 x 14,4 mm
MATERIALS:
Polycarbonate
BATTERY LIFE:
15 days
CONNECTIVITY:
WiFi, Bluetooth
SENSORS:
Altitude, compass, gyroscope, thermometer, blood oxygen, accelerator
OTHER:
Integrated GPS, menstrual cycle monitoring, training programs
PRICE:
Regular version: approx. $500
Solar version: approx. $600
Fit
As I've already mentioned, Forerunner 955 is a very large smartwatch. It is almost two inches wide and over half an inch thick. This might make the watch a little intimidating for a smaller person, like the reviewer in question.
However, the rather light weight of the watch, and densely perforated wristband, help with the size quite a bit. The wristband can be easily adjusted exactly to the size of your wrist, so it doesn't squeeze but is firm. In this respect, many other manufacturers have a lot to learn from Garmin.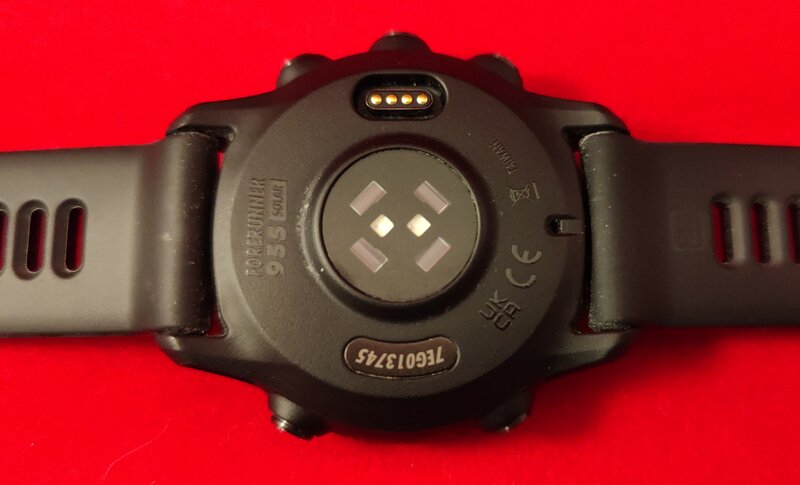 What also makes the fit better, is the fact that Garmin Forerunner 955 can read data with the sensors even when it is still fairly loose. Unfortunately many cheap smartwatches require close contact and even pressure with the skin to get proper measurements.
Even with this, the fact remains that it's not the best fit for a small wrist. While smaller men might still get away with it even in everyday use, for smaller women it is likely not a good fit.
Usability
Garmin Forerunner 955's biggest problem is that it is so versatile. There is a massive amount of different functions and almost everything one can find out about the body can be measured, monitored, and examined.
The combination of the touchscreen and five different buttons is something one has to get used to, too.
However, while is it a little confusing at the start, Garmin Forerunner 955 turned out to be easy to use. While the learning curve might be a little steep, so it might take a few weeks to get to know it thoroughly. Some of the features are hidden in the corners of the menu jungle, which might take time to find.
After months of use, we noticed that we ended up using particularly the features that are available through the physical buttons the most. At the end of the test period, we didn't need to use the touchscreen much at all.
The fact that navigating with buttons is easy is a testament to how well Garmin has designed the user interface, whether the user wants to use the touchscreen or the buttons. This isn't the case with all smartwatches, even Garmin's. When using Garmin Epix Gen 2, we used the UI with primarily the touchscreen.
Perhaps there is rime and reason for having five separate physical buttons.
Smartphone App
While it is possible to monitor most of the data straight from the smartwatch, the Garmin Connect app is still the best way to examine the data. The app is likely the most important piece of the whole product ecosystem. Garmin has managed to make the app both easy to use and comprehensive.
The main view offers an easy and clear view of health information from the current day. This includes data about exercise status, fitness development, last night's sleep, and other things.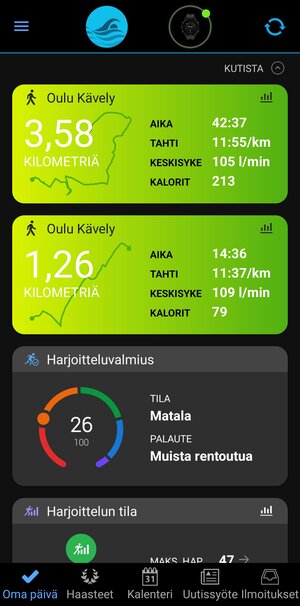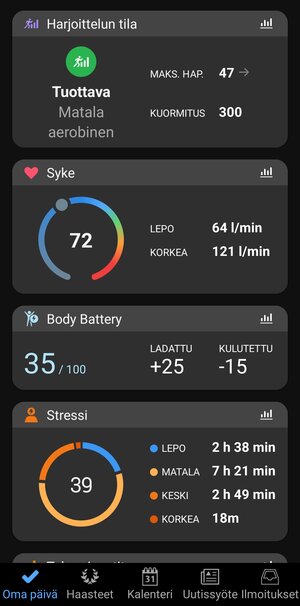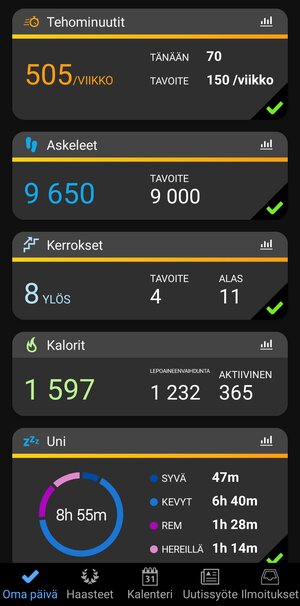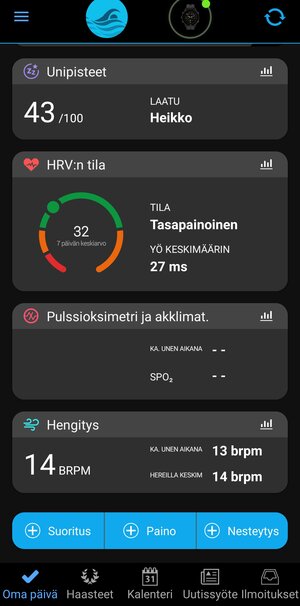 The menu offers links to more information about what type of exercise Garmin would recommend next, how one can improve sleep, and when should one change to a workout outfit and on it again.
The app is one of the best sports apps thanks to its ease of use. Garmin has also done excellent work on translations, although mileage may vary depending on the language.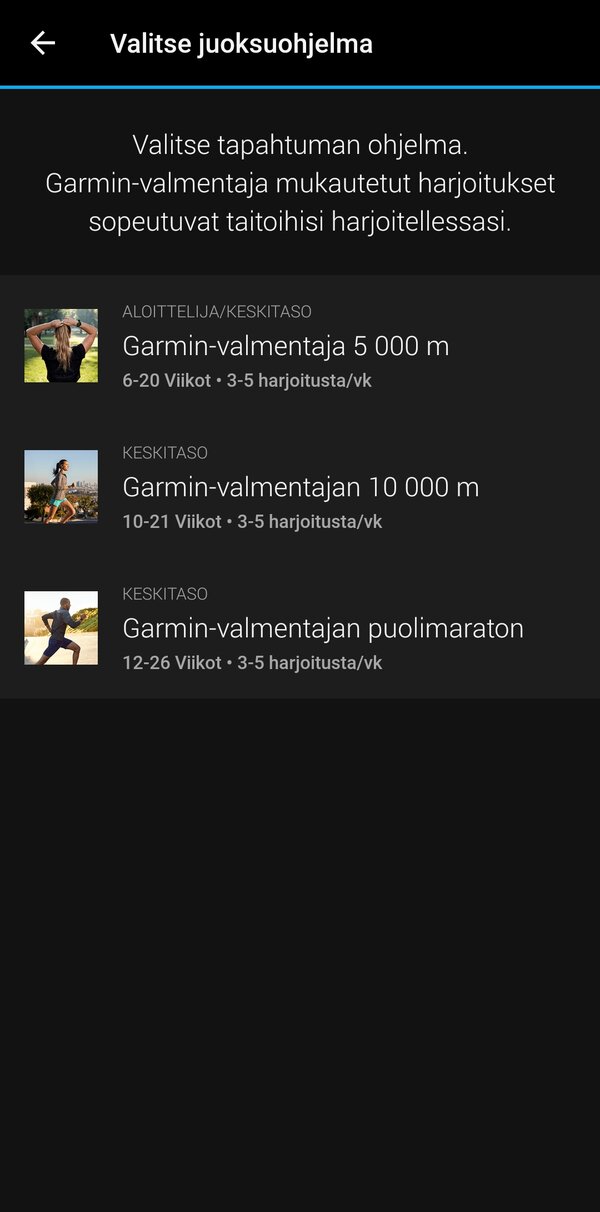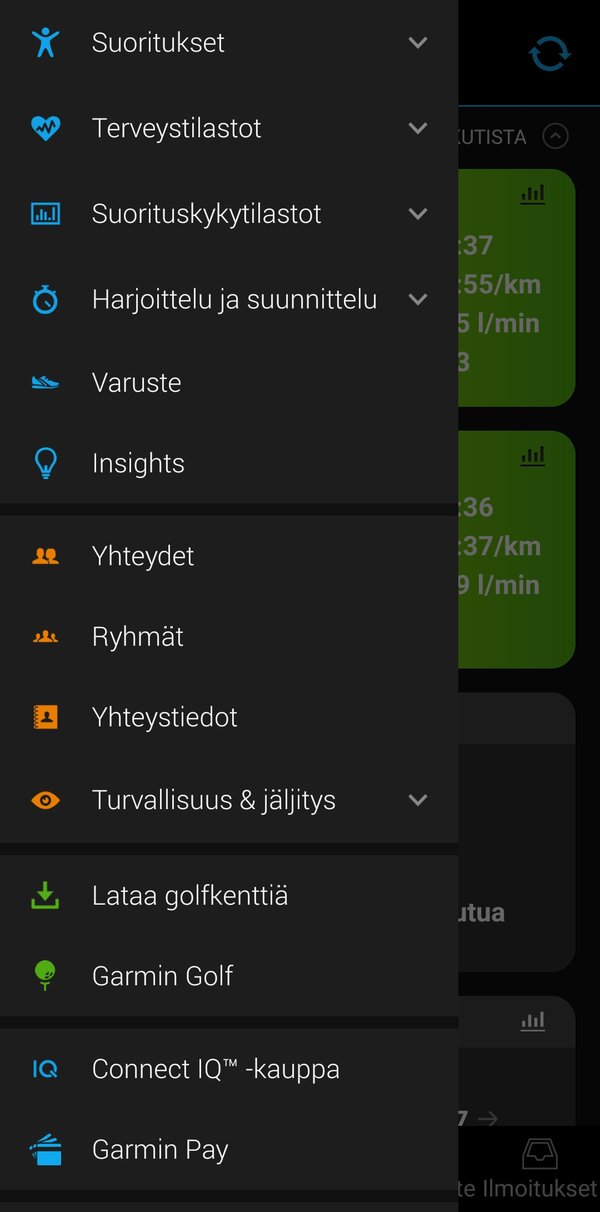 Exercise
Smartwatches that are meant for sports and exercise need a comprehensive look at how they perform in those tasks - after all, that is what they are meant to excel at. We took the Garmin Forerunner 955 through as much of a ringer as we managed throughout the test period.
As one would hope from a $500 smartwatch that is designed for exercise and sports, Garmin Forerunner 955 truly comes to life as a sports watch. It naturally collects basic data, like distance, route, time spent, and heart rate.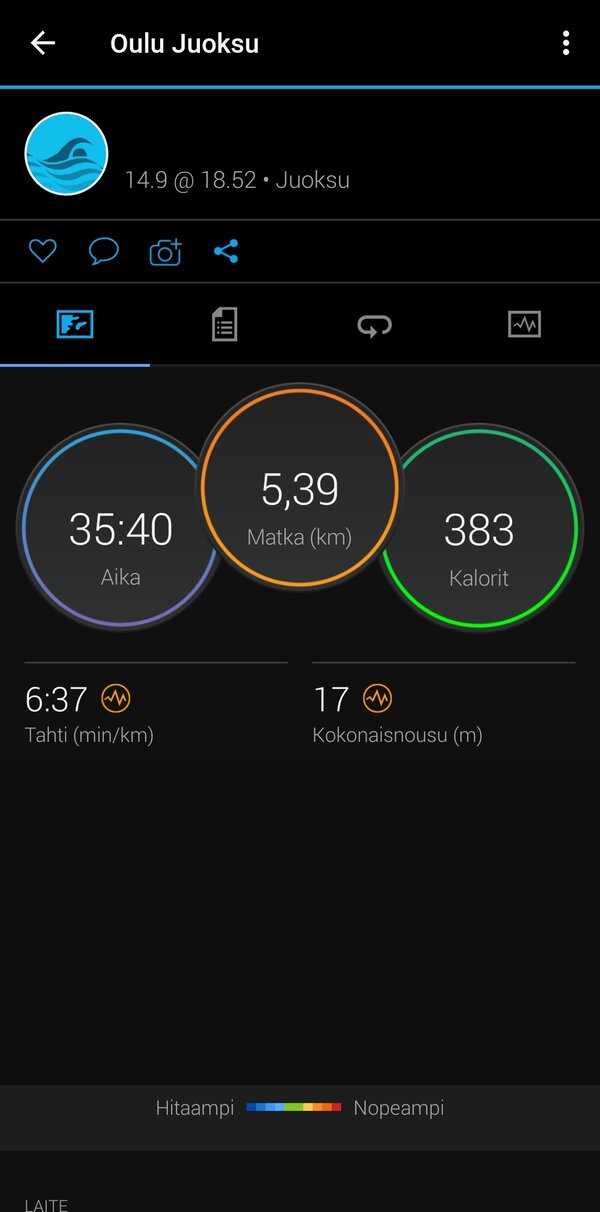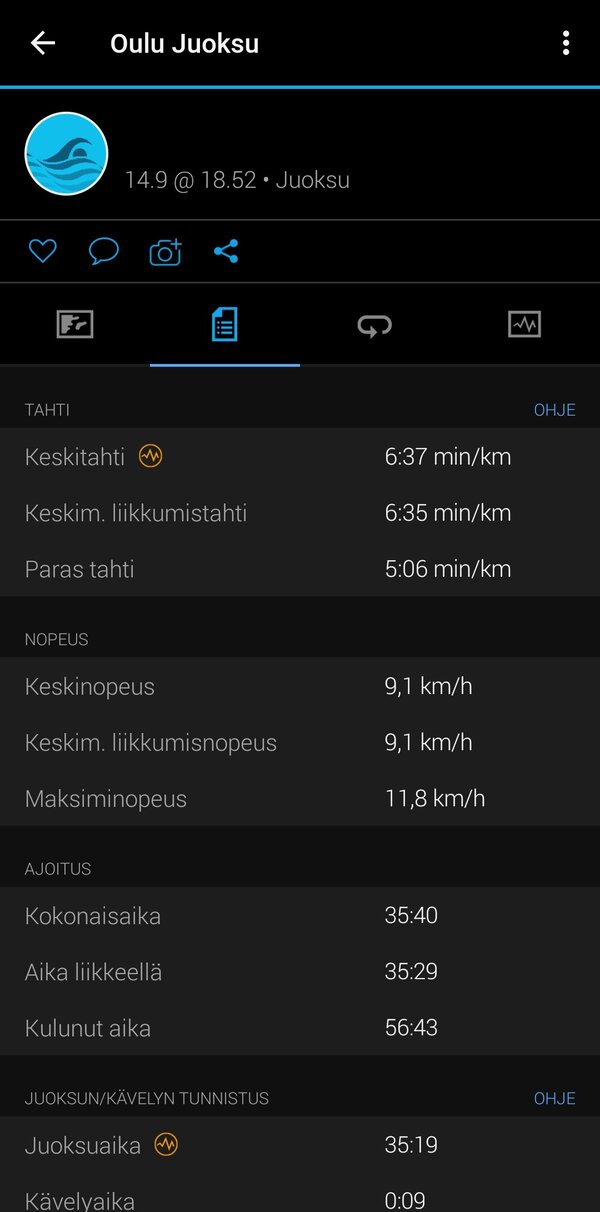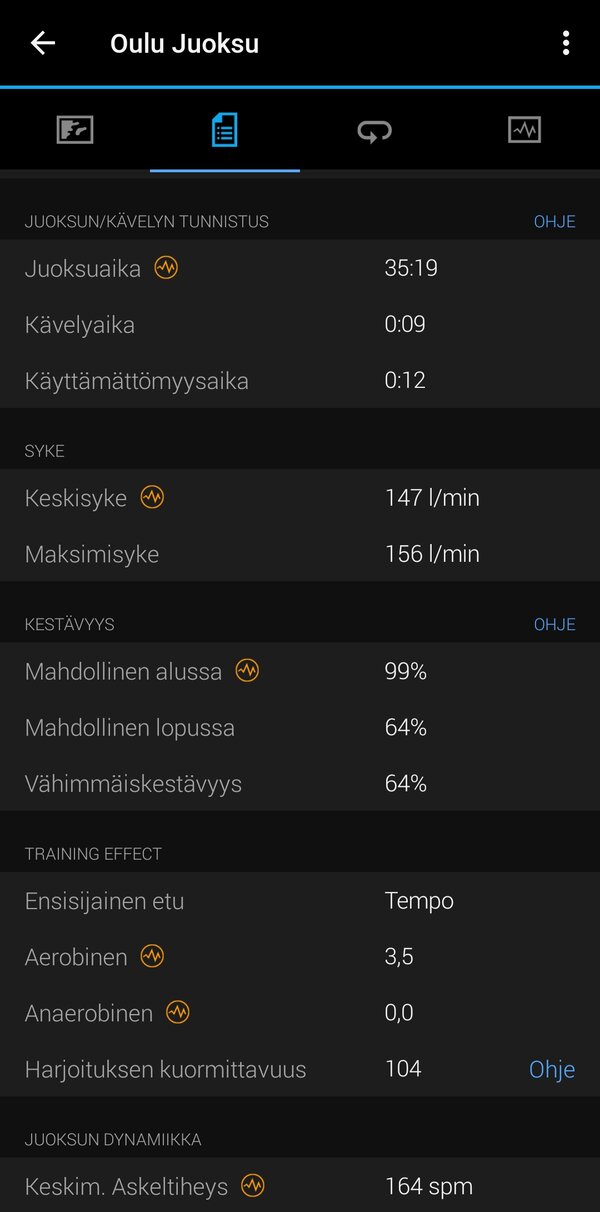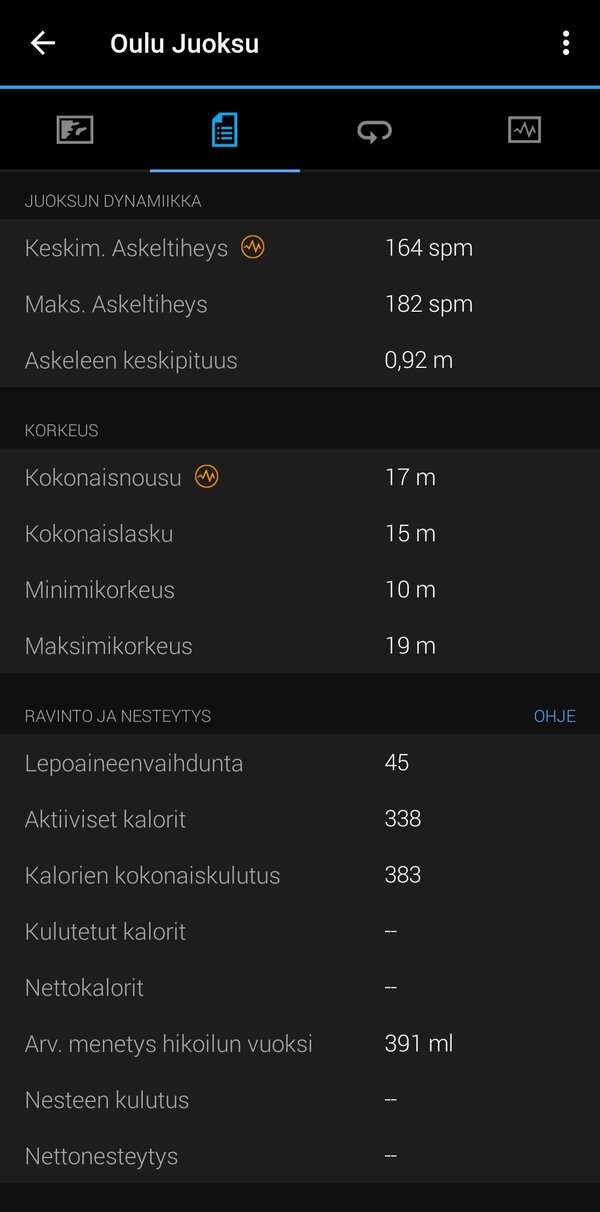 However, Forerunner 955 also offers a vast selection of additional features that many of the competitors don't. One of the more interesting ones is an estimate of remaining endurance: Forerunner 955 can make an estimate when the user is about to run out of juice.
When the user is rested and recovered before an exercise, the charge is at 100%. As one exercises or does sports, the percentage slowly decreases. This helps the user to keep on going if, for example, after five miles the percentage is still at 75%.
Each workout also is categorized automatically to tell the user whether it mainly improved endurance, improved basic conditioning, was it perhaps more of a recovery workout, etc.
The integrated GPS is also amazingly precise and fast to react. Both in the woods and in an urban environment, it was way more precise than a smartphone. It also reacted fast to stoppages, like traffic lights, during a run.
As almost all Garmin sports watches, the Forerunner 955 also includes all sorts of exercise programs and modes, especially for those into running or biking. This means that the watch can build your own training regimen based on goals.
Health
In addition to being an exercise companion, Garmin Forerunner 955 offers health monitoring features. The automatically monitored measurements include sleep, heart rate, stress level, step counts, and others.
An important addition to Garmin products came with a software update early in 2022. Now the watches also inform about training readiness. This is also available in Forerunner 955.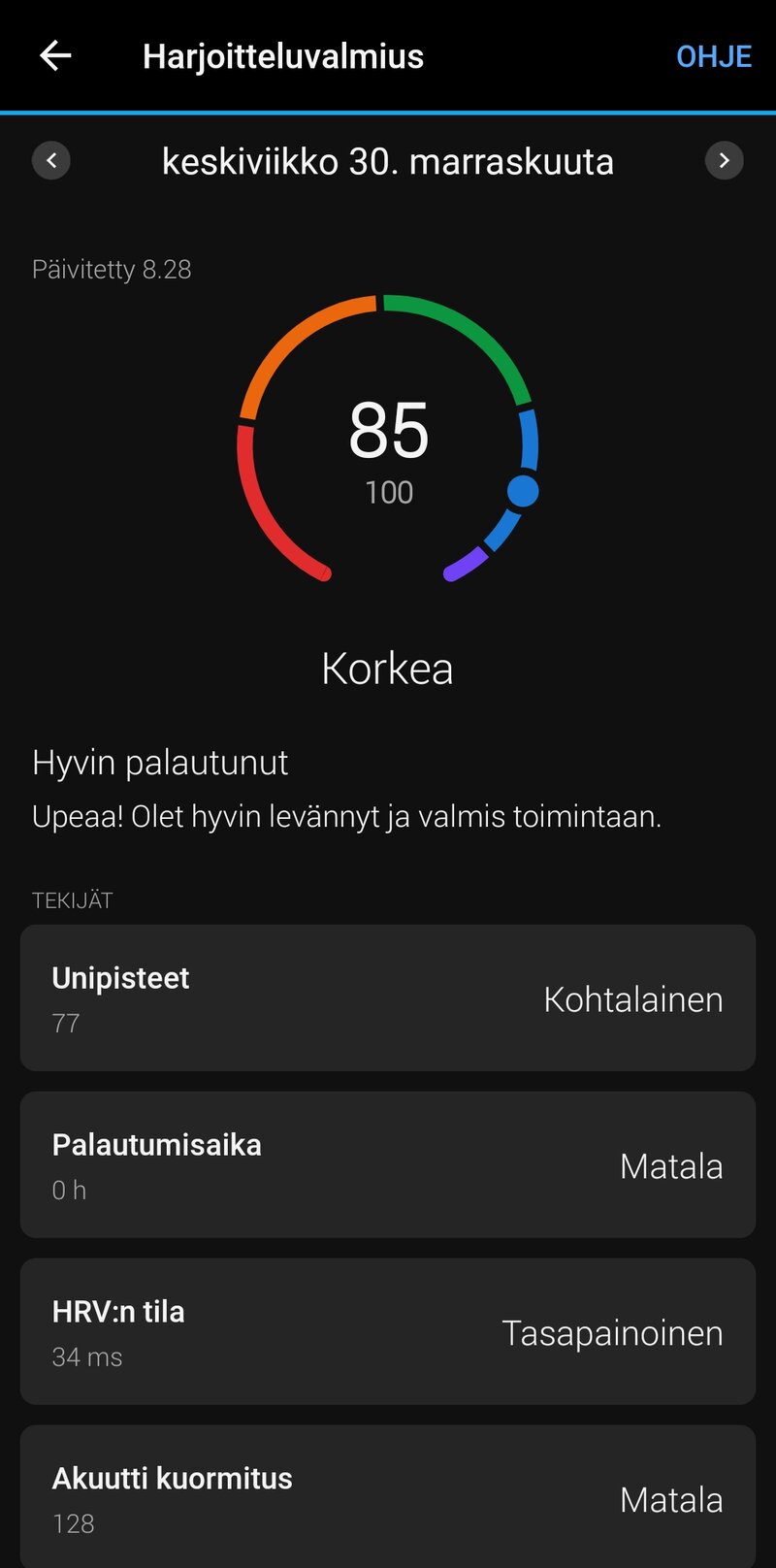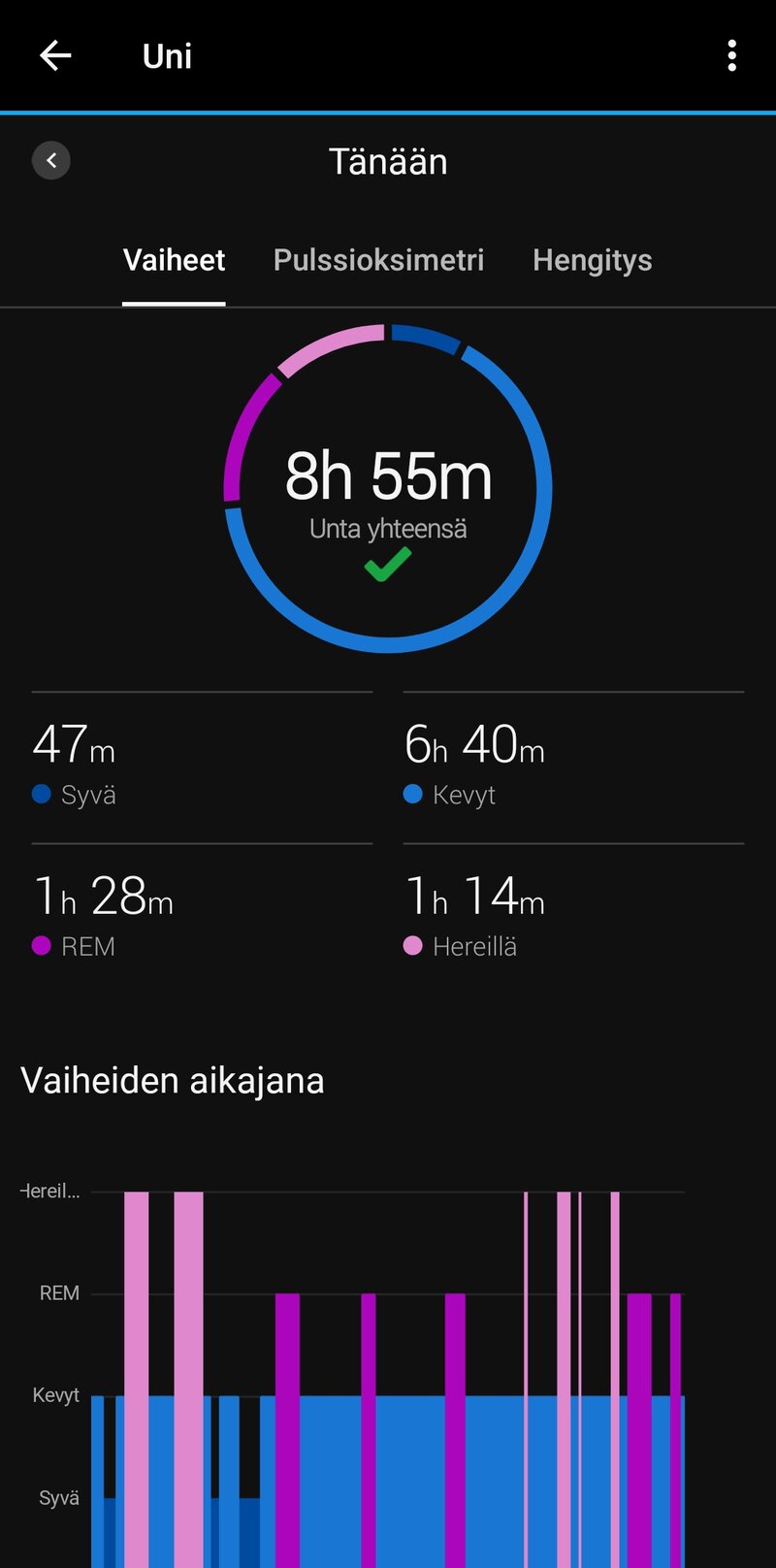 Training readiness basically monitors stress levels, sleep quality, and recently performed exercise, and lets the user know if it is smart at that point to go for an exercise or it rest and recovery is more appropriate.
However, our experience with sleep monitoring was still one of Garmin's biggest weaknesses. Garmin's algorithms didn't recognize naps at all. Also doomscrolling in bed before sleeping was often measured in sleep time, which doesn't make for a good measurement.
On the other hand, the Body Battery measurement from Garmin is amazingly good and is an excellent measurement for overall energy.
We also appreciated clear and concise descriptions of all the measurements, which makes it easier to process the information.
Battery Life and Charging
The battery life of the Garmin Forerunner 955 is largely what we're used to in Garmin devices. The manufacturer promises 15 days of battery life for the Forerunner 955. However, in real life, the battery life is roughly half of that.
Using the device with maximum display brightness, keeping always on display enabled, and using the constant heart rate monitoring drops the battery life to around a week.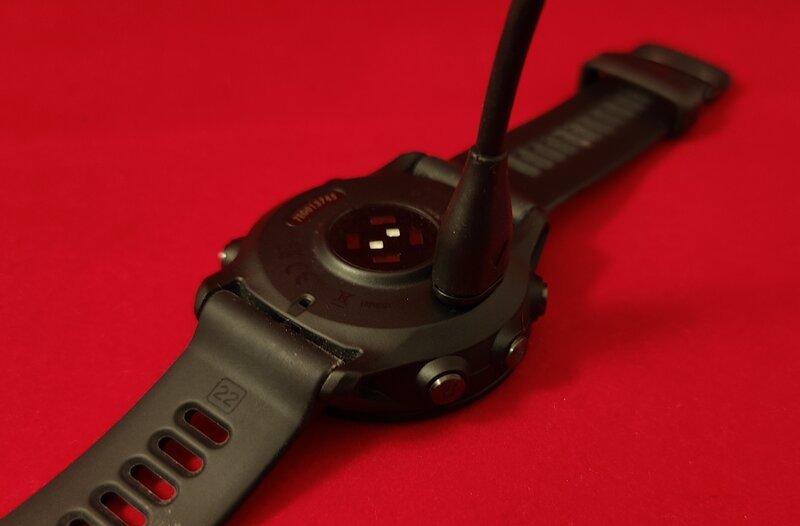 It's worth noting, though, that seven-day battery life is still excellent if you compare it to non-sports watch competitors like Apple Watch, which needs a charge every day or so.
Also, it's worth mentioning that we had the Solar version, which charges the watch with a solar panel that is integrated into the display. However, this feature didn't come to effect much, since we tested this in the north, and even during the summer months with plenty of daylight, it didn't tip the battery life scale much.
Considering this, paying $100 extra for the Solar model might not be worth it depending on the location and where the watch is used.
One of the more annoying features of Garmin watches is that they still have their proprietary charging cable. One cannot charge Forerunner 955 with a USB-C cable from a smartphone or wireless Qi charger. This is unfortunate, especially when traveling. One has to remember to pack another set of cables or try to find one in the location.
The charging from empty to full takes around two hours. In our tests, charging while showering was enough to keep it in charge.
Other Features
Garmin Forerunner 955 is not a full-fledged smartwatch like those from Apple or using Wear OS, and it's built on Garmin's own platform.
This more limited operating system means not only that there aren't as many features but it also provides a much better battery life. There is only a very limited set of third-party apps, and even those are mostly additional monitoring features.
The watch itself supports the core features, which include smartphone notifications, quick replies for text messages, and offline listening for Spotify. In addition, smartphone music playback can be controlled via Forerunner 955.
There's also support for contactless payments, although only via Garmin Pay, which might limit options.
Conclusion
The $500 Garmin Forerunner 955 is shameless about the fact that it is designed for sports and exercise. It has massive amounts of features that are useful for both athletes and regular hobbyists. It also looks like a sports watch and costs enough that a regular smartwatch customer wouldn't be interested if it wasn't for the exercise features.
The other smart features and availability of third-party apps are not comparable to Wear OS or watchOS, either. It's as clear as it can be that smartwatch users not interested in exercise should not read further.
However, if sports-related features are important, and one can appreciate the impressive battery life, it might be just the watch for you. Garmin Forerunner 955 is excellent exactly for the one demographic it aims to please.
Alternatives
Garmin Forerunner 955 is positioned interestingly in Garmin's own collection of smartwatches. While it isn't cheap with a price tag of $500, it's not as expensive as Garmin Fenix 7. In terms of features, the two are nearly identical, but the Forerunner 955 is around $200 cheaper and is built from polycarbonate. This is why we'd choose Forerunner 955 over Fenix 7.
However, if you are a small person and you are looking for the best possible sports watch for running, the best option is the Fenix 7S, which has a markedly smaller footprint than Forerunner 955 while offering the same feature set in metal construction.
If you are looking for a really good Garmin smartwatch but don't want to announce that you are an athlete, we recommend looking at Garmin Venu 2 smartwatches. Venu 2 fits more appropriately in everyday life, both at home and at the office. It also has a sharp OLED display and most of the core features of Forerunners with a smaller price tag.
For those that specifically want a smartwatch that they can use to browse Facebook, Tweet from their wrists, and so on, the better choices are found in Wear OS devices and Apple Watches.
Pros
Amazing battery life


Precise and fast GPS


Vast amounts of features


Extensive health data


Training programs


Conditioning monitoring and tools


Matrix display


Cheaper than Fenix 7
Cons
Expensive


Solar charging can be hit or miss


No wireless charging


Propriety charging cable


UI doesn't take full advantage of the touchscreen