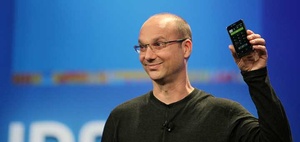 The man behind the original Android, Andy Rubin, made a comeback to the smartphone world last year with his new company Essential Products and their first smartphone Essential Phone.

While there were definitely some innovation that really caught the eye of customers, and especially the competitors, it couldn't be exactly described as a hit.

Obviously Essential started a trend, the notched displays, that they might not be as proud anymore, especially after Pixel 3 XL's huge cutout.

Now, Rubin has something new in store and, by the sounds of it, it might be the revolutionary thing we're waiting for.

According to Bloomberg, Essential is developing a smartphone that will evolve machine learning and AI to completely new level allowing the smartphone to complete rudimentary everyday tasks without user input.

The smartphone would learn the users behavior and apply that to automate tasks such as answering text messages.
Read more...
---