Getting Started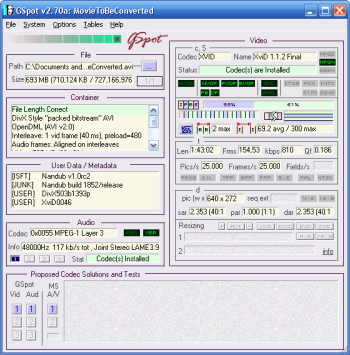 So now that you have read up on each standard and checked what standard you will need to convert to from the list, its time to open up
GSpot
.
As you can tell, the interface is abit cluttered but all the necessary information from the video file will show up.
Using GSpot
Now there are two ways to get your file into GSpot.
You can either drag-and-drop the file right into the program or you can go to
File->Open->Open
.
You can now take a moment to check out all the codec information available for the video file you opened. At this point, there is only two pieces of information we are interested in and those are the status of the file and the framerate.
Picking out the information you need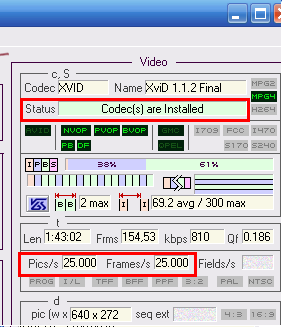 Follow the picture at right to see the pieces of information you need. If the status is
Codecs are installed
then you are set. If the status is failed, then please read this guide
here
to help sort out your codec needs.
Next we need to look at the most important information pertinent to this guide. The
Pics/s
and
Frame/s
section. If the numbers in those categories are
25.000
then your movie is in
PAL
standard. If the numbers in those categories are
29.97
or
23.97
then your movie is in
NTSC
standard. Be careful to note what standard your movie is in so you know what to convert to later.
Opening up ConvertXtoDVD for the first time
Ok, so now that you have everything else done, its finally time to open up
ConvertXtoDVD
.
Drag the file into the program or go to
File->Add Video File
. The information should be added to the program now.