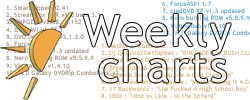 Time to go through this stuff again. Software charts remained pretty much the same, as usual despite the big revamp we did on software section in last week. Only biggest new entry, or actually a re-entry, was
EasyDivX
, which made it to the seventh place on charts.
In MP3 charts,
DJ Quesito/Gettopoet
took the top spot once again, leaving last week's
Nameless
from
Aethyr
on fourth place. Only real new entry on the charts was by
Kone ja Ruuvi
who made it to the 9th place.
In our forum charts,
Dela
continued to dominate the charts and held his #1 spot from previous week's charts. Now the charts seem to have balanced a little bit and our Big Time Forum Guys are hanging in the top 10 pretty constantly -- guys who we've seen in the charts before and are in the charts again include
loaded
who got back from his holiday and made it to the #2,
VCDJunkie
who slipped from previous week's #2 spot to #3 this time and our seriously senior, ultra-active
A_Klingon
, who stayed at 4th place and has been on every single chart since we launched this tradition :-) Other dudes/dudettes who were in previous week's charts as well include our brand-new moderators,
jnihil
and
HomerJ
who hopefully get the pressure on DVD-R area down a little bit once they get used to their new responsibilities and
Insite
. Thanks for everybody who visited and posted to our forums! Here are the charts...
Hot programs
1.
SmartRipper v2.41
2.
Streambox VCR v1.0 beta 3.1
3.
TMPGEnc v2.58.44.152
4.
DVD2AVI v1.77.3
5.
DVD Decrypter v3.1.3.0
6.
ForceASPI 1.7
7. Easydivx v0.82
8. cladDVD XP v1.3 updated
9.
VirtualDub v1.4.10
10.
Nero burning ROM v5.5.9.9
Hot MP3s
1. Dj Quesito/Gettopoet : "
BIN LADEN vs BUSH CLUB EDIT
"
2. Loud Sound Disorder : "
Eminem Diss
"
3. Aethyr : "
Amps Of Wrath
"
4. Aethyr : "
Nameless
"
5. ADreNaLiNe-DJ : "
You are a God Creation
"
6. Bryan Edman : "
Always On My Mind
"
7. 17 Backwards : "
She Fucked A High School Boy
"
8. Blind Lesbians of Uganda : "
Masturbating Is A Crime (Wankers Will Be Punished)
"
9. Kone ja Ruuvi : "
Never Know
"
10. 17 Backwards : "
Christians Are Sheep
"
Top forum users
1. Dela
2. loaded
3. VCDjunkie
4. A_Klingon
5. menmaddi
6. jc3
7. jnihil
8. Deznaj
9. Insite
10. HomerJ