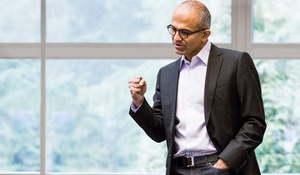 During Microsoft's recent quarterly earnings report, new CEO Satya Nadella made headlines by stating that "we will streamline the next version of Windows from three operating systems into one single converged operating system for screens of all sizes."

The news would have certainly been massive, given that Windows is currently available in multiple iterations depending on what type of device you have. Phones have Windows Phones, tablets have Windows RT or Windows 8/8.1 and desktops have Windows 8.1 (not to mention all iterations of Windows before that).

Later in the conference call, however, Nadella clarified what he meant, and the announcement is no longer as spectacular as it could have been.

In his clarification, the CEO says "one Windows" means that moving forward a single team will work on all Windows iterations, including Windows Embedded and the Xbox One OS. That team works under the unified Operating System Group. Each version of Windows will be built on a "common core," otherwise known as the NT core. Each OS will be built on top of the core to make best use of form factor/screen size.
Read more...
---