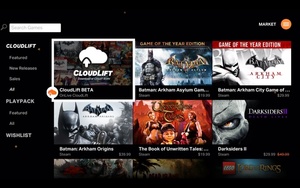 OnLive, the once-promising cloud gaming service, has returned from the dead.

A year after collapsing, the company has returned as a partner with Steam, allowing you to stream PC games you already own to your TV, notebook, mobile phone and more for $15 per month. The service will sync with Steam, allowing you to seamlessly move from PC to TV, notebook etc., and vice versa.

Dubbed 'Cloudlift,' the service will be very limited out of the gate. The company has signed two publishers, with just 20 games available. That is expected to grow significantly soon, but for now the selection is limited.

One of the major publishers signed up is Warner Bros., who has made the Batman Arkham series available, as well as the new Lego Movie game.

"The new strategy is providing complimentary services," says OnLive executive chairman Mark Jung. Rather than requiring that let OnLive modify the game code in a complex manner, the new service simply needs a publisher's permission to run.
Read more...
---