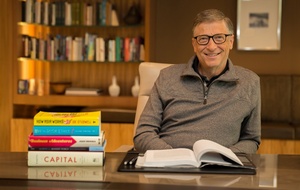 Ebola, Ukraine, Gaza, Malaysian Airlines MH370 & MH17, Terrorism, Mass Protests, Robin Williams' suicide and plenty other things were beamed into our skulls in 2014, but Bill Gates is ever the optimist.

Being exposed to the media, you can be forgiven for thinking that things are constantly getting worse and worse. Simply put, fear sells. If it bleeds, it leads. It is very easy to be cynical and have a negative outlook on the future, but Bill Gates is far more optimistic as he looks back on 2014 and toward the future... and not just because he's insanely rich.

No, instead Gates has reminded us that a lot of good things happened in 2014 too, even if it doesn't make the headlines. Just as he did at the end of 2013, Gates is drawing attention to some of the highlights from 2014, and some of it is pretty great.

In 2014, for the 42nd year in a row (at least), the child mortality rate has fallen. "More kids are living to see their fifth birthday than ever before," Gates asserts, as he highlights the drop in the number of children dying globally from preventable causes. In fact, the child mortality rate is falling faster than ever anticipated, and Gates highlights an article in The Economist showing that over 13.6 million children's lives have been saved since 2001.
Read more...
---