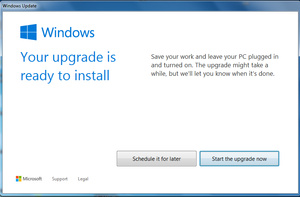 Are you still waiting for your free upgrade to Windows 10? It may take days or weeks to be ready for you, but if you don't want to wait then maybe this can help.

NOTE: These instructions require that you edit the Windows registry in Windows 7 or Windows 8.1, and that you have been offered (and have reserved) your free upgrade. You are completely responsible for your actions. Please also remember that these instructions do not guarantee a flawless upgrade to Windows 10, so make sure to backup ALL of your personal files and be ready to deal with a recovery operation if necessary. All you will learn to do here is force Windows to start the update for you, rather than waiting. We are not responsible for any mistake you make or problem you might encounter.

With that aside, there are several methods floating around that allow you to bypass the waiting period in Windows 7 or Windows 8.1, meaning you can begin the upgrade to Microsoft's shiny new consumer OS now. The method shown here only requires that you add or edit a registry value. It worked for us on multiple systems, but we can't guarantee it on every system.


STEP 1 - Open RegEdit and Navigate to OSUpgrade Key
Read more...
---