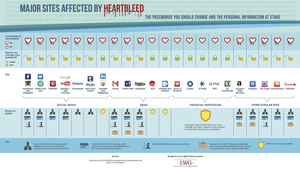 LWF Consulting has put together an excellent infographic helping concerned Internet users who may be susceptible to the Heartbleed bug that plagued OpenSSL traffic and only just recently began making headlines.

An estimated 65 percent of all sites on the Web are affected, and major companies have scrambled to issue patches.

Despite most major sites being patched quickly, Heartbleed has been around for at least three years, meaning your passwords and other personal data could be have stolen at some point, well before the patches.

As an added protection if you use the Chrome browser, there is a new plugin that will automatically let you know if the site you are visiting is still vulnerable, and will also place a Heartbleed logo next to Google search results.

Try the plugin here and check the infographic below. Worth noting, however, is Google's response here:
Read more...
---