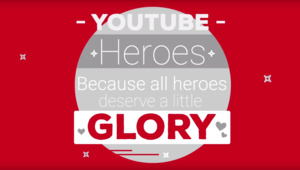 There's not a lot of places that can be more vile than a YouTube comment section. And every day thousands upon thousands of illegal videos are uploaded to YouTube. All this needs to be cleaned up while maintaining YouTube as a free and open platform to voice your views.

YouTube, though, knows that there's a problem with unmoderated nature of the comment section as well as videos that do not serve a purpose that YouTube was made for, and now they've come up with a solution. Enter YouTube Heroes.

YouTube has introduced an initiative which recruits community volunteers to police the comments and content. These people which will be given the moniker YouTube Heroes will gain more power as they've flagged more videos and comments, as well as entered more captions.

There's no money to be made here but YouTube promises some perks like exclusive videochats, workshops, and even personal contacts within YouTube. These are things that not even channels with millions of subscribers have access to.

Obviously there's a million different problems with giving a badge and a gun to seemingly random YouTube users. They even get to mass flag videos like it's a good thing that less effort goes into flagging a video.
Read more...
---