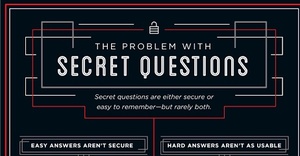 After some really interesting research results, Google is raising awareness about how unreliable "Security Questions" are for legitimate login authentication, password recovery and more.

Providers of Internet services have long asked their users to provide answers to questions about themselves which may be used for identity verification later. Typically, these questions are asked if a login is suspicious (unfamiliar location etc.) or as a layer of a password recovery process.

It turns out that this is an extremely unreliable layer of security. Hundreds of millions of secret question and answer combinations were analysed by Google, with the goal of (among other things) determining how likely it would have been for an attacker to guess the answers correctly.

One thing Google noted in its research is that answers tend to either be fairly secure while difficult to remember, or easy to remember while being insecure. There isn't much middle ground.

Easy and Insecure vs. Difficult and Secure

Sometimes answers can be guessed very easily. For example, Google found that an attacker had a 19.7 percent chance of answering "What is your favorite food?" correctly if the account holder speaks English. The answer? Pizza!
Read more...
---