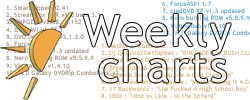 Time for this thingy again.. Software charts changed quite a lot since the previous week's charts, which is pretty uncommon.
DVD2AVI
climbed two spots from no. 5 to no. 3, but the biggest surprise comes from
CDRWin 5
which made its debut on the software charts this time, at number 5.
DVD2SVCD
also returned back to the charts to no. 10 spot.