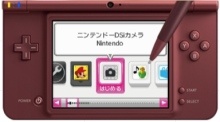 The strong sales of the newly launched
DSi LL
in Japan have given the overall hardware charts a boost this week, according to
Media Create's
latest figures.
The larger, updated handheld sold 100,553 units in its first week, less than the DSi's launch of 170,000 but significantly higher than the
PSPgo
's launch week of 28,000.
Added to
DS Lite
and
DSi
sales, total
Nintendo
handheld sales amounted to 137,674 for the week.
PSP
sales were 37,326 units with most coming from the PSP-3000 model.
Wii
sales increased to 32,844, but still lagged behind the momentum-building
PS3
at almost 35,000. The
Xbox 360
continued its slow sales in the nation, at 4085 units.