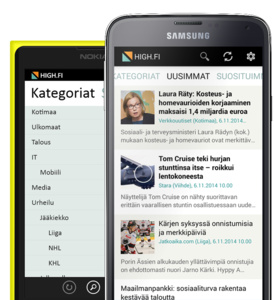 For the past year, thousands of you have been satisfying your needs for news content with our HIGH.FI app, and we couldn't be happier to have you!

The app, built by AfterDawn (our first!), was made to simply aggregate news content from all over the web. We wanted to make an app that could drag in news from everywhere and still could be categorized and filtered, without getting too bloated. In a way, we wanted to build a kind of "pre-loaded Feedly".

About a year ago, that app debuted for Windows Phone devices titled HIGH.FI, after the en.high.fi domain that provides a lite-version of the service for Desktops. Surprisingly, people liked it and several months later we dropped an Android app onto Google Play.

With no significant promotion other than our own, HIGH.FI is approaching 10,000 installations on Windows Phone, and 14,000 on Android. It has an aggregate rating of 4.1/5.0 on Google Play, which also surprised us for our first app. It turns out there are plenty of news junkies like us who find this app useful, and thousands of you use it everyday! Thank you for choosing to keep our app and using it so often because it has kept it a priority even as we are on the verge of some major updates and changes at AfterDawn.
Read more...
---