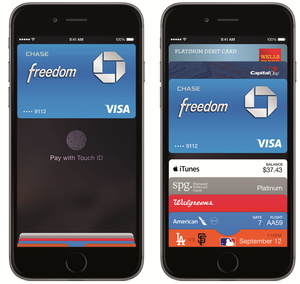 Apple Pay is a new mobile, contactless payment system developed by Apple Inc. that will soon be available to use online and offline. What should you know about it?

Today in Cupertino, Apple unveiled its new iPhone 6, iPhone 6 Plus and introduced its Apple Watch line for the first time. It also dated iOS 8's public release for later this month and gave away a U2 album to iTunes customers.

Another service announced by Apple - and strongly linked to the new iPhones and Apple Watch - is Apple Pay, which the company promises will revolutionize how to pay for physical goods and services offline, and how you pay for things in apps on your iPhone.

So here is a quick run down of what Apple revealed to this point.

What is Apple Pay?

Apple Pay is a new mobile payments and contact-less payment service provided by Apple, which the firm promises is simple to use, private and secure. Using NFC (near-field communication) built in to the iPhone 6, iPhone 6 Plus, you can pay for goods and services easily without having to produce a credit card or debit card, using Passbook, and TouchID as part of the authorization process.

When will it be available?

Apple Pay will be available as a free update in October.
Read more...
---