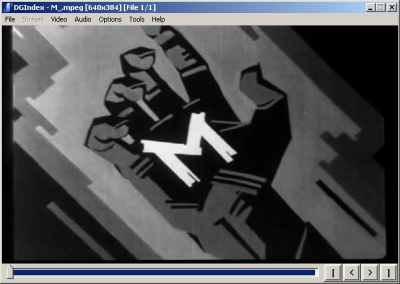 DGIndex
DGIndex is a very powerful tool for working with MPEG-2 and MPEG-1 files. It can help you learn many different properties of video and audio streams, decode frames for you to view, and is even instrumental in allowing AviSynth to frameserve MPEG files (including DVD files) to other applications ranging from editing applications to video encoders and players.

DGIndex only works on the various MPEG-2 and MPEG-1 file formats. Most such files have an extension of MPG, MPEG, or VOB. MPEG files may also have other extensions, particularly if they originate from some kind of DVR hardware or software. As long as the video and audio streams conform to MPEG requirements it should be able to open them.

For our purposes, the only files we need to open with DGIndex are the ones that aren't going to be sped up or slowed down. For other files we'll be using AviSynth to change the speed or decode to uncompressed audio before encoding AC-3 files.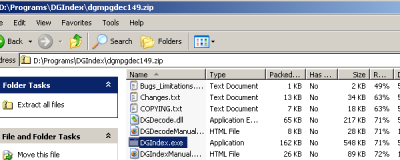 Installation
DGIndex comes in a zip archive that includes an AviSynth plugin for reading DGIndex projects. For now all we'll need is the file called DGIndex.exe. You can either extract it to a folder by itself or a common folder for video tools. I keep it at c:\Program Files\DGIndex\. There is no installation necessary. Once you copy it to its final destination you're ready to run it.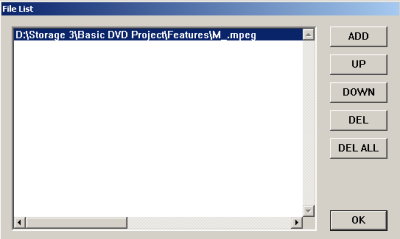 Opening An MPEG File
From the File menu select 'Open' and the File List window will appear. Since DGIndex is designed to be able to open MPEGs that are split between files it uses a fairly unique interface for the job. First make sure that any files you don't want opened aren't listed. If there are any listed you don't want to open you can highlight them and click the DEL button. Alternatively, to remove all files from the list simply click the DEL ALL button. To add files click the ADD button to get a standard Open dialog. If you just want to open a single MPEG file you can select it here and click the Open button. Once the Open dialog disappears click the OK button on the File List window and your MPEG will be opened.
Opening Multiple Files Together
If you need to open multiple files, like a set of DVD VOBs, you can select the files one at a time, hold down the
key on your keyboard while selecting the first and last MPEG file, or hold down the key while selecting individual files. When you're finished click the OK button and all your files will be joined as a single MPEG and opened.



Audio Settings
Since what we're using DGIndex for right now is demuxing audio to use it as DVD assets, the main thing we need to consider is what audio settings are used. On the Audio menu you can select either Demux Tracks or Demux all tracks.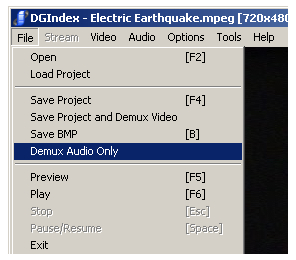 Demuxing
Once you have an MPEG file loaded with DGIndex you can demux the audio to a separate file with the Demux Audio Only option from the File menu. The audio will automatically be demuxed to a file in the same directory as the open MPEG file. Its name will be the same as well, with the exception of the extension which will vary by audio type. The most common extensions are AC3 (Dolby Digital), MPA (MPEG-1 Layer II), and WAV (Uncompressed).