This article shows how to burn AVCHD content with ImgBurn. It does not cover AVCHD creation, it assumes you already have your BDMV and CERTIFICATE folders, and blank media with enough capacity to store the burn.

Introduction & Requirements
Software you must download and install

ImgBurn
Required: You need to download and install ImgBurn on your computer. Download!
The ImgBurn installer is fairly straight-forward and so requires no instructions. Remember you will need blank DVD media (possibly dual-layer if your compilation is over 4.36GB). Remember, you must have a
BDMV
and
CERTIFICATE
folder for this to work properly. If you need to create AVCHD, then check our
Guide section
for help.
Launch ImgBurn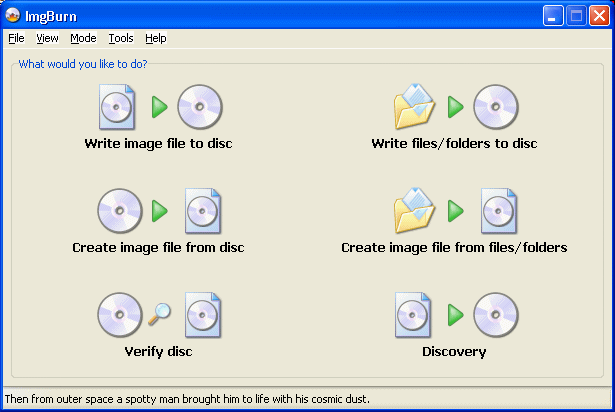 The first thing you will see when you launch ImgBurn is a start page. The including of this Welcome screen has made things much easier to understand for new users to the software. To enter
Build Mode
, click
Write files/folders to disc
.
ImgBurn Build Mode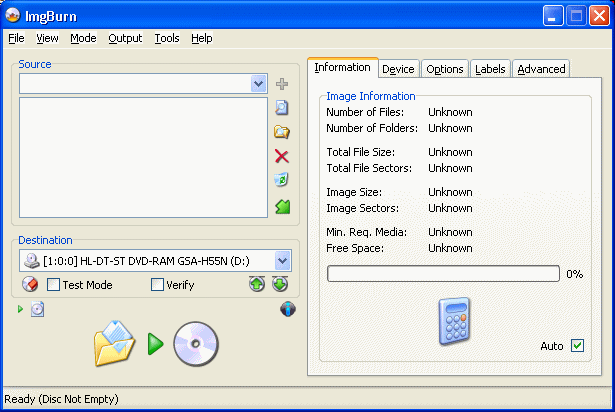 ImgBurn was originally designed for burning DVD/CD images to blank media (hence, the name). However, nowadays it has a build mode, which means you can burn files and folders to disc directly from your hard drive without having to build an image first. This saves a lot of time. Click the
Open Folder
button. The open folder button is one of the small six icons beside the source box. Click it and browser for the
CERTIFICATE
folder and import it, and do the same for the
BDMV
folder. Alternatively, you can drag and drop both folders right into the program.
ImgBurn - UDF 2.50 file system

ImgBurn is pretty smart. As soon as you add a BDMV folder to it, it is going to assume you are writing Blu-ray or AVCHD media. If it has to, it will alert you that you have the wrong file system selected. In a nutshell, AVCHD requires
UDF 2.50
to be compatible with stand-alone hardware such as the PlayStation 3 (PS3) console or a Blu-ray player. If ImgBurn offers to correct the problem for you, then click Yes.
Ready to Burn?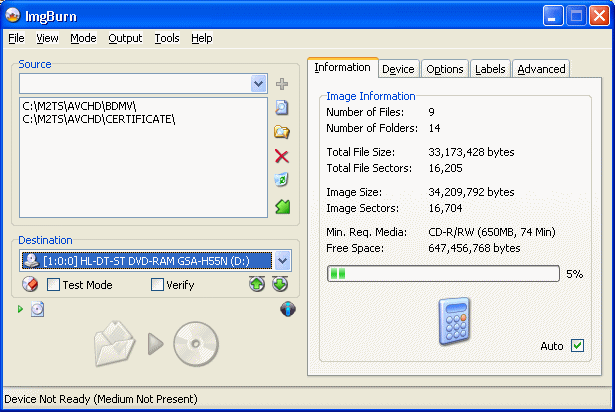 Please take a look at the picture above. You are ready to burn when you can see the BDMV directory and CERTIFICATE directory as seen above. This means they are in the root of the disc. Insert your blank media into the DVD Burner. If your media is undersized then I suggest next time you are creating AVCHD video, if you can swap DTS for AC3, then do so. Select a
Write speed
under the
Device
Tab.
When ready, click the
Burn
button (Folder pointing to a Disc in lower bottom-left corner).
Select a Volume Label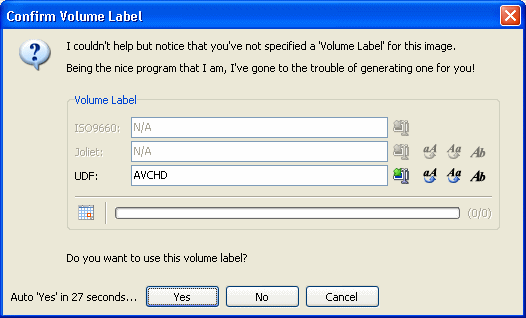 You will now be presented with the opportunity to select a
Volume Label
. It really does not matter what Volume label you use, anything ImgBurn suggests should be just fine. When you select a Volume Label, click
Yes
and after that, click
OK
to confirm all burning details are correct.
The Burning Process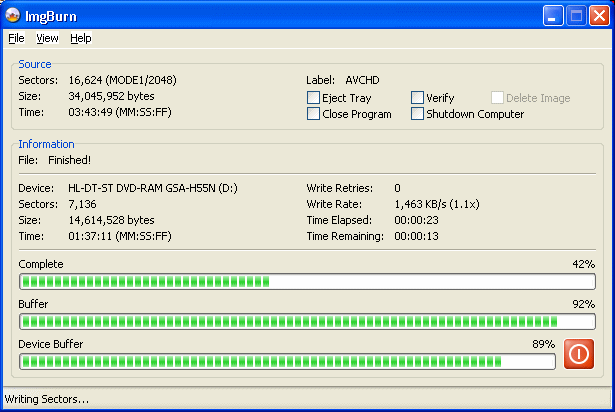 The amount of time the burning process will take up depends entirely on the speed you choose to burn the disc at. Of course, it also will be effected by the size of the AVCHD compilation. If it is an entire movie, it will probably take a while at a good burn speed.
Success?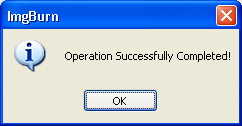 You will know all went well if you receive the
"Operation Successfully Completed
" alert as shown above.
Finally
Hopefully you will have learned how to create AVCHD discs from compilations you have created on your hard drive. If you run into any problems, please visit our
Discussion Forums
and ask for help