In this guide we will look at burning a .DVD/.ISO image file over 4.36GB to dual layer media (DVD+R DL in example) using the freeware burning tool ImgBurn. You will need a proper DVD+R DL (or DVD-R DL) disc for this, a regular blank DVD will only do if your ISO file is less than 4.36GB and no break has been specified.


Introduction & Requirements
Software you must download and install

ImgBurn
Required: You need to download and install ImgBurn on your computer. Download!
Run the ImgBurn Installer, it is pretty straight-forward and so doesn't need to be explained in detail. Once you have it installed, run it from the shortcut on your Desktop.
ImgBurn Welcome Screen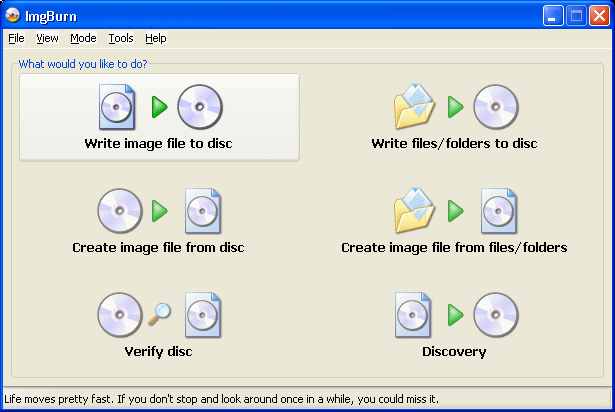 At the ImgBurn Welcome Screen, there are several different modes to enter. Obviously the one we need is
Write img file to disc
.
ImgBurn Write Mode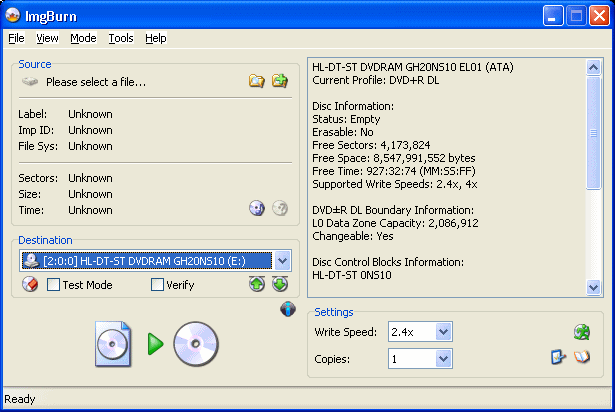 ImgBurn will now enter Image Writing Mode as shown above. It is pretty easily understood. Make sure to select the correct DVD burner under the Destination setting. Test Mode and Verify are options you can choose if you wish. Now we will load in our Image file.
Open .DVD/.ISO Image
To open an image file in ImgBurn, click the small folder with the magnifying glass on it under
Source
(top right). When you get a file browser, look for your Image file. If you have a .DVD file, then you must select that instead of the ISO.
Note
: If ImgBurn complains that it cannot locate the ISO file, then open the .DVD file in notepad and make sure the .ISO file it references has the same filename as the ISO file that came with the .DVD file.
Change Booktype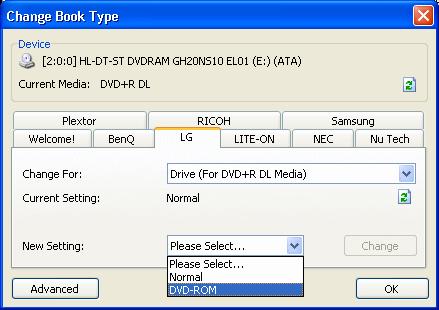 This is an optional step but it can help with compatibility with some hardware and so if your drive supports Booktype, then you should try this. Please note you can only do this with DVD+R (DL) media and not DVD-R (DL) media. To change booktype, click the small book icon in the bottom right-hand corner of ImgBurn on Image Write Mode. The
Change Book Type
options will now appear. Select the model of your burning and set
"Change For"
to the type of media you are burning to. Now change
"New Setting"
to
DVD-ROM
as shown above. When you have done this,. click
Change
and you will either get a Success message or an error message. When done, click
OK
to return to ImgBurn.
Select a Write Speed and Burn
You must now select a speed to burn your disc. Please note that when burning to dual-layer media, you should keep the burn speed low. I recommend for sensitive data to only choose 2.4x on 4x certified media (if available). A full DVD at this rate would take around 45 minutes to burn. When you select your
Write Speed
, click the
Burn
button (the picture of the Image File with the arrow pointing to a DVD disc.)
The Burning Process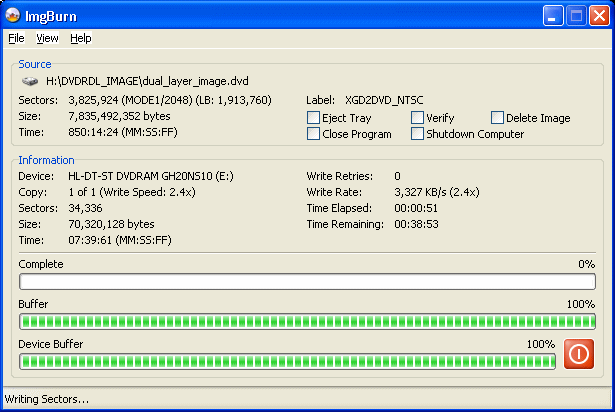 Burning to a dual layer media always tends to take a good bit longer than burning to single-layer standard media. The amount of time the process will take also depends on the
Write Speed
you chose.
Success?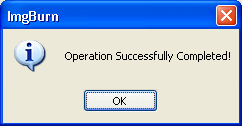 You will know all went well if you receive the
"Operation Successfully Completed
" alert as shown above.
Finally
Hopefully you will have learned how to burn your own dual layer images now. If you run into any problems, please visit our
Discussion Forums
and ask for help