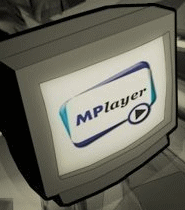 In this article we will look at converting AVI multimedia files into Executable (EXE) files that will play back on any Windows machine. There are many benefits to this conversion, such as compatibility (as far as the video and audio content is concerned) with the machines you try it on regardless of codec setup.
Introduction & Requirements
Run the MakeInstantPlayer installer. It is a pretty straight-forward Windows installer. The utility itself is written by the author
MuldeR
and uses the MPlayer engine, which already guarantees good results. Once you have run the Installer, move on.
Run MakeInstantPlayer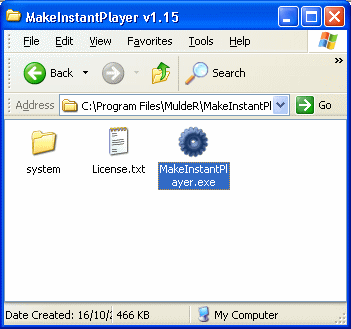 Once Installed, MakeInstantPlayer doesn't automatically create a Start Menu group or a Desktop shortcut. Therefore, if you want to run it then you have to locate the folder which you installed it into. This is usually
C:\Program Files\MuldeR\MakeInstantPlayer vX.XX.XX
(where X's are version number). So locate it in Windows Explorer (hit the Windows Key + E) and then run MakeInstantPlayer.exe.
MakeInstantPlayer Interface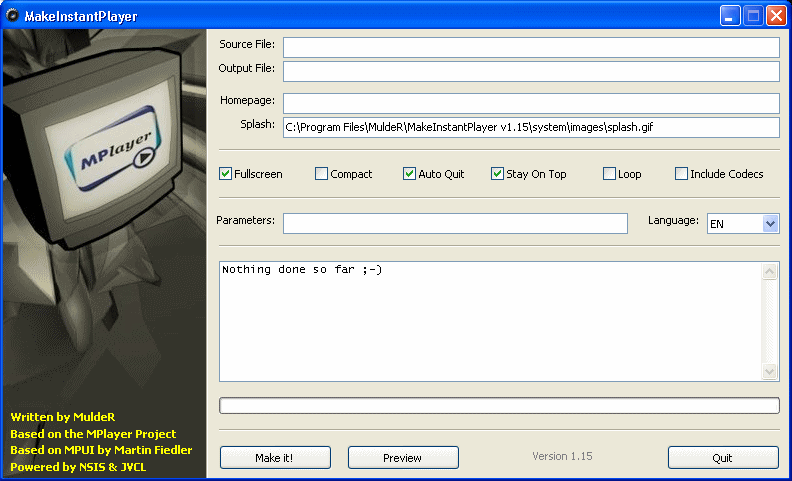 Luckily, MakeInstantPlayer has a very easy to understand user interface. At the top a user can specify the location of a
Source
file (in this case, the AVI file) and choose an
Output
Filename. The
Homepage
option allows the user to add a homepage that can be loaded from the resulting EXE file. Even better, the
Splash
option allows you to add your own Splash screen - a picture that will be displayed momentarily when the video is loading - from any picture files you have on your hard drive.
Fullscreen
selected will make the video automatically playback at Full Screen when run, whereas
Compact
will load it in the player as normal.
Auto Quit
will kill the process when the video is complete.
Stay on top
means the player will appear on top of other Windows.
Loop
means that the video will continuously play from start to finish over and over until the user interrupts it. Select
Include codecs
if you are using RealMedia or WMV.
Parameters
lets you add more parameters if you know what you are doing, and
Language
lets you specify the language. And that's the whole interface, so let's load up a source file and get started
Input settings to MakeInstantPlayer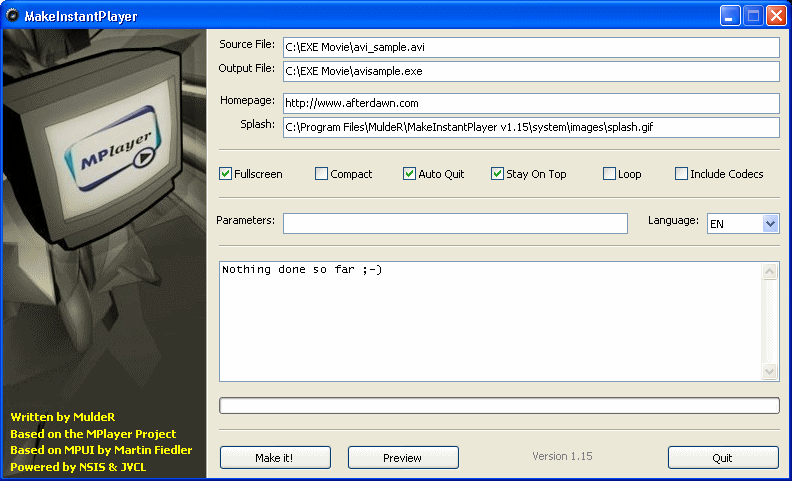 To load a source AVI, simply click on the
Source File
field and a File Browser will pop-up. Do the same thing to choose an
Output
file name and location. If you have a homepage you would like loaded from the EXE file, enter it, or if you would like your own custom
Splash
, change that setting. Once you are done and your setup looks something like above (make sure Source and Output are correct!), then you can begin the process by clicking
Make It!
.
Make It!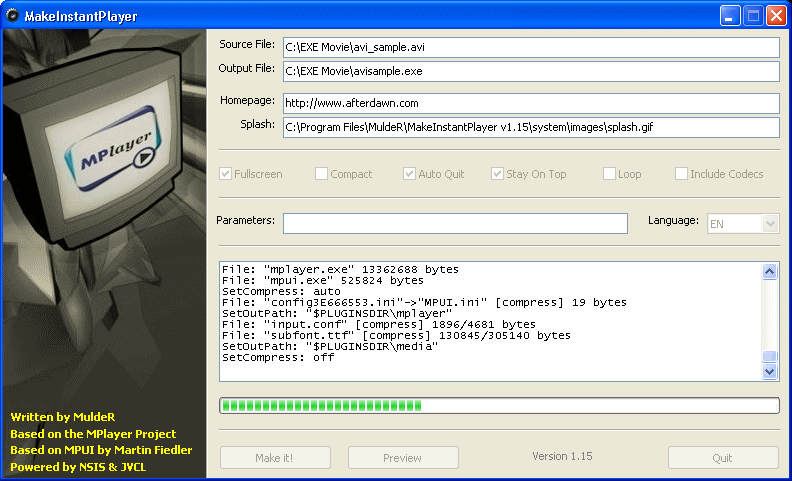 The length of time the processing will take depends entirely on the speed of your computer and of course, the size of your source AVI content. Once it is done you should be alerted.
Success?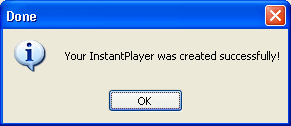 If you get the message as seen above, then nothing went wrong and you can now go and run your EXE file. The file will be a bit larger than before as it contains the MPlayer engine itself. When you run the file, you will see the selected splash screen. During this time, the movie stored in the Executable is being extracted to a temporary folder along with the player and codecs etc. It should not take too long for the whole thing to load.
Finally
This article set out to show how AVI files can be converted to Executable files and run on machines regardless of its installed codecs and other stuff. If you experience any problems with this process, then please visit our
Discussion Forums
for help.