Convert video for Apple TV (Freeware, Easy)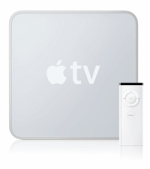 This guide shows how to convert almost any video file so that it can be played back on an Apple TV box. The process is very easy and should not take long to get going. The software used in this guide is Videora Apple TV Converter, which is freeware.

Introduction & Requirements
Videora Apple TV Converter
- Download and install the Videora Apple TV Converter package.
Obviously, you need an Apple TV, some source files and some spare time. This process is very easy and so should not take too long. Videora Apple TV Converter can output
H.264
/
AVC
video, which is supported by the Apple TV.
Videora Apple TV Converter - First Look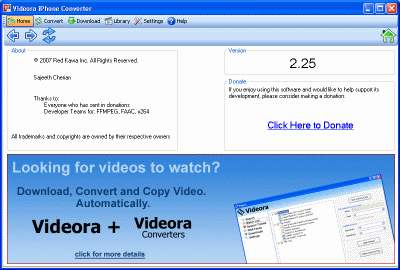 This software can seem a little bit confusing at first, but it is actually very easy to use. Across the top, there are six buttons;
Home
,
Convert
,
Download
,
Library
,
Settings
and
Help
. You have top be connected to the web to used this software on it's easiest settings.
So as with any file conversion process, the first thing that needs to be done is opening the file.

To open a file from your HDD, click the
Convert
button at the top of the application. When you have that done, click the
VideoWizard
tab.
Videora Apple TV Converter - Open Video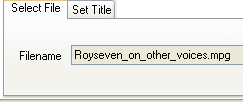 Under the Convert window, you will see two tabs at the bottom of the program,
Select File
and
Set Title
. In order to open a file, click the
Select File
button and then browse for a file and open it.
When it opens, if you are properly connected to the Internet, you will notice that the
VideoWizard
will now give you some compression options for your files.
Videora Apple TV Converter - Compression Settings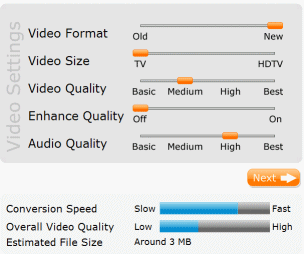 You will now be able to use a few slidebars that will help determine the output quality and file size. Firstly,
Video Format
has two choices,
Old
and
New
. New is H.264 and old is MPEG-4 SP. I'd recommend the H.264 option (New).
Video Size
should be at TV for standard definition content. Setting it to HDTV will output 720p video which will take longer and is a bad decision unless you have HD video as your source.
Video Quality
let's you weigh the output file size and time it takes to encode against the quality of the video. There is a noticeable difference between the settings with
"Best"
literally being the best.
Enhance Quality
is up to you but it shouldn't do any harm to the output so if quality if what you are aiming for, switch it
on
.
Audio quality
is the same as video but for the audio.
Your settings will now show you in the progress bars below how long it will take, the overall video quality and an estimated file size of the output. When you are done, click the orange
Next
button. However, before continuing, you have to setup output paths.
Videora Apple TV Converter - Output Options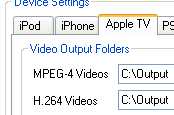 Click the
Settings
button on the software. Now click the
Devices
tab. Click the Apple TV tab. You have two output path you can possibly choose, output for
MPEG-4 SP
and
H.264
. You can leave them at default if you want, or you can set the directory yourself. Please remember to create the folder beforehand.
When you choose an output directory for your files, click
"Save Device Settings"
. When you are done, click the
Convert
button again and go back to the
VideoWizard
tab.
Videora Apple TV Converter - Begin Conversion

When you are done with everything else, you can now click the
Start Converting
button under the
VideoWizard
tab in the
Convert
section.
Videora Apple TV Converter - Conversion Process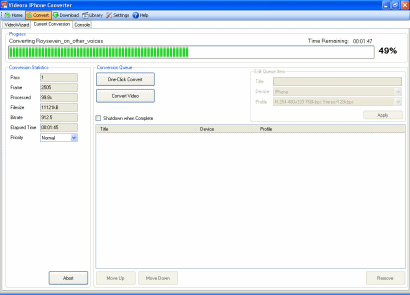 The amount of time this conversion will take depends on the length of your files, the settings you chose, the speed of your computer and other factors. Usually the speed is pretty good on modern hardware.
Finally
When the conversion process finishes, you should now have an
MP4
file in the output folder you specified earlier. If you want to know how to play MP4 files on your PC,
then click this link
. This file is now ready to be played back through an AppleTV. If you experience any problems, please visit our
Discussion Forums
for help.
Version History
v1.0
-- First version by
Dela
(31/08/07)