Other Advanced Options
There a few miscellaneous options that you may want to take a look at for video encoding, the container (MKV or MP4), and even loading files from your DVD.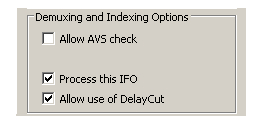 IFO Processing
In order to select whatever titleset you want instead of just the largest one you'll need to check
Process This IFO
. With this option enabled you can select any IFO file (
VTS_##_0.IFO
) and the corresponding video will be opened. Selecting
VIDEO_TS.IFO
will select the largest title.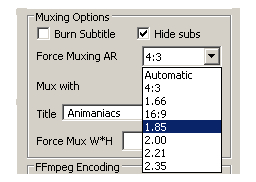 Muxing (Container) Options
If you want any subtitles to be hidden by default, similar to the way most DVDs are setup, make sure to check
Hide subs
. You may also give the video a title, which will be read and displayed by most software and hardware.
Setting Aspect Ratio
Use the
Force Muxing AR
to let the container set the AR of your video. This is particularly useful for widescreen DVDs that you've cropped borders from, and increased (or in some cases reduced) the AR to that of a theatrical movie. Unlike the video stream AR setting which is limited to 4:3 (1.33:1), 16:9 (1.78:1), or the dimensions of the video, you can use values like
1.85
(1.85:1),
2.35
(2.35:1), or
1.66
(1.66:1).

Bitrate or Quality Setting
If you prefer to set the bitrate directly, rather than the final size you should check
Specify Bitrate
. For setting the Constant Rate Factor (CRF) of a constant quality encode use
Specify Quality
instead. AutoMKV doesn't include any kind of bitrate calculator, so you
If you're using AutoResize as well you can customize the CRF number used to evaluate different resolutions. A CRF of 18 is generally considered to be a "maximum quality" setting. Higher CRF numbers (lower quality) may result in higher resolution.
Queue and Encode
Now that you have all the options set for your output you can queue the job and start encoding whenever you're ready.
---
Where to go from here
Haali Media Splitter
If you want to play MKV or MP4 files in Windows you may need to install the Haali Media Splitter. Our guide titled Introduction to Haali Media Splitter walks you through installation of this excellent free software.

ffdshow
If you want to watch AVC video on your PC you'll need an AVC encoder, like the one included in ffdshow. Read our guide on ffdshow Installation and Configuration to learn more about using ffdshow to play video encoded with x264.

AC3Filter
If you need to play AC-3 audio on your PC you can use AC3Filter for playback or passthrough to an external receiver digitally. Our guide on AC3Filter Installation and Configurationwill help you configure your computer to play a variety of surround sound sources.
Version History
v1.0
Original version by
Rich Fiscus