How to play MOV files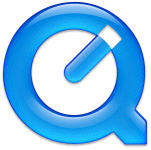 An
MOV
file is a
QuickTime
media
container
format. That is, it can store audio and video data. In this article we will talk about the simple task of playing back MOV files on a computer. This guide is noticeably shorter than our other playback guides, but covers everything you need to know to play QuickTime files.
QuickTime
QuickTime is a multimedia framework developed by
Apple Computer Inc.
that consists of a QuickTime player, the QuickTime framework which provides a common set of APIs for encoding and decoding audio and video and the QuickTime movie file format, .MOV. The
MP4
multimedia container is also based on QuickTime technology. The latest version of QuickTime is
QuickTime 7
, which brought about an
H.264
encoder
(baseline profile, 1 B-frame support) and decoder which supports Baseline, Extended and most of the main profile but not High Profile features.
QuickTime 7 also brought multi-channel audio support for the MOV container.
QuickTime Player
The QuickTime player is available for both the Mac and Windows operating systems. There are two versions, a free, limited player and a pro version that sells for about $30. The free version provides only the most basic MOV playback features whereas the pro version offers full screen playback and editing and recording features. QuickTime is distributed with an installation of iTunes.
QuickTime Alternative
QuickTime Alternative
is an all-in-one freeware package made for the Windows operating system that enabled more players to play MOV files. Normally, the latest version of QuickTime would have to be installed to play MOV. QuickTime Alternative takes several codecs from QuickTime 7, thought it is not a licensed Apple product. It also includes web browser plugins for
Internet Explorer
,
Mozilla Firefox
,
Opera
and
Netscape
, and comes packed with
Media Player Classic
.
In order to play MOV files in
Windows Media Player
or any other
DirectShow
-based players, you need to install QuickTime Alternative.
QuickTime Alternative Installation
Step 1
.
Download QuickTime Alternative by clicking here
.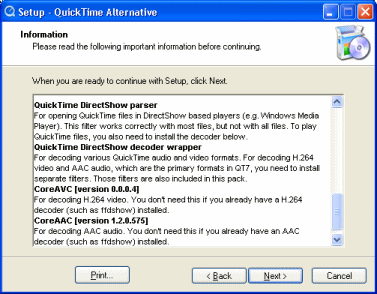 Step 2
. When you run the installation file for QuickTime Alternative, it is possible that you will be asked to remove the original QuickTime player if you have it installed. After that we have an
Information
page telling us what will be installed on your computer.
Included in the package are QuickTime components, Browser Plugins, a DirectShow parser (to play files in Windows Media Player etc.), QuickTime DirectShow decoder wrapper (for several QuickTime video and audio formats),
CoreAVC
(to decode h.264 video), CoreAAC (to decode
AAC
audio), DirectShow filters and Media Player Classic. Click
Next
.
Click
Next
again when you select a directory to install in and then you come to
"Select Components"
screen.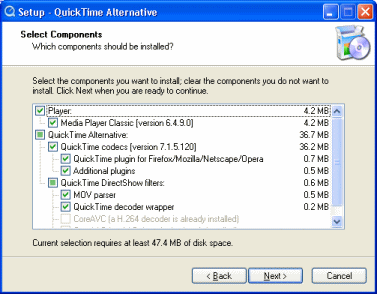 Step 3
. Here is where you have the option to remove anything from the package. As you can see from my picture, I could not even install
CoreAVC
or
CoreAAC
as I already have decoders for both installed. This is OK. Keep everything selected and click
Next
to choose a Start Menu folder, and next again to choose whether you want desktop icons etc. Click
Next
and then click
Install
.
Done
. You will probably be prompted to close a web browser before installing. When it is finished it should be now possible to play the majority of your files in players such as
Windows Media Player
. Media Player Classic also has good support for the MOV file format.
Troubleshooting and useful links
If you want to dive into the world of digital video, but want to first learn even the most common lingo, here are some good links for you:
·
Glossary definition for MOV
<
·
What is a codec?
·
What does "encoding" mean?
·
AfterDawn.com: Video term glossary
·
AfterDawn Forums: Playback problems
Additionally, if you prefer to use a solution where you use a separate video player software and a separate set of codecs, you might want to try out different video players as well. We have a
good selection
of freeware players available on our site, but here are some of our favorite ones:
Media Player Classic
Zoom Player
It should be noted that sometimes, despite all the efforts, analysis and trial&error you've applied in order to get a video to play, it just wont. Quite often in those cases, even when none of the file analytics programs seem to help, you can come to a conclusion that the file is corrupted. If that is the case, you're pretty much out of luck and might want to try to re-download the file in order to see whether the problem was with the download process itself.
Version History
v1.0
- 23rd of March, 2007 by
Dela